Ravens release FB Vonta Leach and LB Jameel McClain
In a cost-cutting move, the Ravens released fullback Vonta Leach and linebacker Jameel McClain on Thursday. The two cuts will free up $4.95 million in cap space for Baltimore.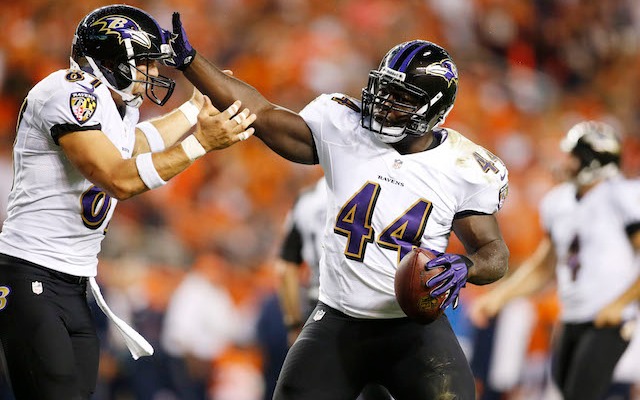 For the second offseason in a row, Vonta Leach has been cut by the Ravens. The Baltimore fullback was released on Thursday along with linebacker Jameel McClain in a cost-cutting move that will free up almost $5 million in cap space for the Ravens.
Leach and McClain might be gone for now, but they could be back. Ravens general manager Ozzie Newsome didn't rule out a possible return for either player, "There could come a point later on when we would consider bringing back Vonta and Jameel," Newsome said in a statement.
That's exactly what happened last offseason. Leach was cut in mid-June after the two sides couldn't agree on how to reduce his $3 million 2013 salary. Baltimore then brought Leach back in late July with a two-year deal. 
In three seasons with the Ravens, Leach has been to two Pro Bowls (2011-12), but his playing time was cut back in 2013 after Baltimore started running more one-back sets. 
Leach took to Twitter on Thursday and didn't exactly sound like a player that might return. 
Thanks for the memories #Ravenation http://t.co/csrsQJ5Ptv http://t.co/GaoYiZLZg0

— VontaLeach44 (@vleach44) February 27, 2014
As for McClain, he's been in Baltimore since coach John Harbaugh's first season in 2008. McClain was signed as an undrafted free agent out of Syracuse and has started 55 games for the Ravens over the past six seasons. 
After an injury to Trevor Siemian, Brock Osweiler entered the game and helped the Broncos to...

The 32-year-old running back is done for the year

Brandon Williams was involved in a scary situation in the first half against Denver
The Broncos are turning back to Osweiler after an injury to Siemian

The Cowboys legend admits he's not on 'great' terms with the Cowboys suspended running bac...

Here's the latest information on injured Steelers linebacker Ryan Shazier