Ray Horton has pedigree to transform Browns defense
Learning under Dick LeBeau, Ray Horton has paid his dues and now wants to make over the Browns defense.
• 7 min read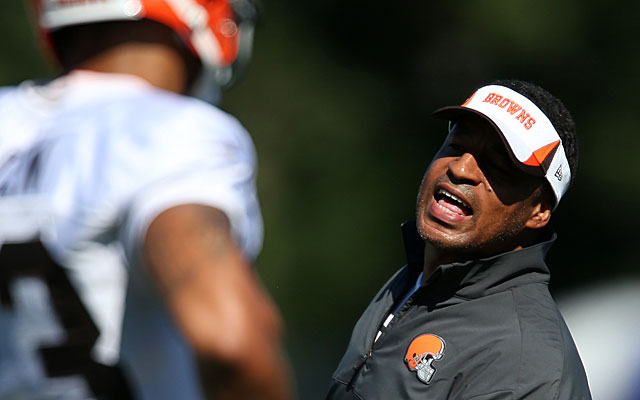 BEREA, Ohio -- The three Super Bowl rings rest on a corner of Ray Horton's desk. They are at once inconspicuous -- the exclusive jewelry is hardly the first thing you notice when you walk into his office -- yet unavoidable. Once your eyes make contact with them it's hard not to stop and stare.
You are aware throughout the duration of the conversation, as Horton outlines his philosophy and goals in hopes of taking a Cleveland Browns defense from good to great, that the bling is close enough to touch, and if the sun catches those diamonds just right your retina might be endangered.
For all that Horton accomplished revamping Arizona's defense as a coordinator there the past two years, it is those rings and his years as a prized apprenticed to defensive guru Dick LeBeau in Pittsburgh that will resonate loudest in these parts.
These Cleveland fans are fixated on the hated Steelers, with Horton a part of two of their record six Lombardi Trophies as an assistant coach, and these Browns players don't need to be sold on Horton's Accomplishments, with the tangible proof sitting in his office. If this perpetually rebuilding franchise is ever to compete again, it will have to do so in a most difficult AFC North that includes the reigning Super Bowl champs in Baltimore, the always-tough Steelers and a Bengals team that is seeking a third straight playoff berth.
This is the only division in football with two Super Bowl winning quarterbacks -- Joe Flacco and Ben Roethlisberger -- a fact Horton is acutely aware of.
The standard here is obvious. If you want to even reach the playoffs in the AFC North, it will likely require a Super Bowl-caliber club, and the Steelers, Ravens and, more recently Bengals, have all traditionally been defined by their menacing defenses. That's the rarified air Horton is seeking, and it's part of what attracted him to Cleveland after the Cardinals declined to name him head coach (he had several other head coaching interviews as well).
"You talk about (the rings) some, because that's what you want," said Horton, who, should he have the success I expect will be a head coach himself in short order. "But really what I do talk about is Paul Kruger (a pass rusher signed away from the champion Ravens), because he was just there.
"When you get there, you understand, and if you haven't been there you don't understand it. So you talk about certain experienced and you go, 'Isn't that right Paul.' And Paul shakes his head, 'Yeah, that's right.' They don't know, and if haven't been there you don't know, but it lends credence that when you do talk about getting there that I can turn to Paul."
Horton has a strong playing career of his own to cull upon, a former second-round pick who played 10 years as a defensive back, including two Super Bowl appearance and one title with Dallas.
He began his coaching career in 1994 with Washington -- Browns offensive coordinator Norv Turner hired him to join his Redskins staff after Horton had played for Turner's teams in Dallas -- and after coaching defensive backs in Cincinnati and Detroit Horton began his tutelage under LeBeau, the master, in 2004.
The Steelers were always a top-10 defense while he was there and ranked first overall three times, with Horton seen as the eventual heir apparent to the ageless LeBeau, who may still be running Pittsburgh's defense three years from now at this rate. So in 2011 Horton made the decision to take the Arizona defensive coordinator job and he rapidly transformed that sad-sack bunch to the point where in 2011 the Cardinals led the NFL in opposing passer rating (71.2), interception percentage, ranked second in third-down defense, third in red-zone defense and fourth in takeaways.
"Ray was a young coach when I hired him and I've known him," Turner said, "and with the type of person he is and the way he thinks, you knew he was going to be a good coach. And with the experienced he's had along the way, and the good people he's worked with and the experience in Pittsburgh, it's fun to be with him now and see how's he grown. He's an outstanding football coach."
Turner's offense, which lacks the overall individual talent and skill that Horton's unit has, is getting all it can handle during this camp from the defense. Horton works hard to conceal his intentions, disguising blitzes, moving people around, trying to confuse the quarterback before he attacks him.
"We've had to work hard to handle their stuff," Turner said. "If your center and quarterback can't read the pressure and make adjustments and slide people over, then this defense can make you look silly."
While the Browns were building a formidable defense under former coordinator Dick Jauron, their approach was much more reactive, not aggressive, not as diverse in its looks. When new owner Jimmy Haslam handed executive Joe Banner the power to build this franchise after a long tenure in Philadelphia, Banner knew he wanted an attacking, 3-4 defensive mind to run that side of the ball. Horton was always a natural fit, and it hasn't taken a lot of convincing getting the players to embrace his approach. 
"I think it goes back to the pedigree, where one is from," Horton said. "And having a Dick LeBeau, the 3-4, attacking, Blitzburgh, all that stuff -- guys in the league they understand what they're looking at. They understand the West Coast Offense vs. a 4-3 Tampa-2. They know what's going on around the league, and they see the numbers and they know who is a good and who is not.
"And I think every player on every NFL roster thinks, first of all, I'm a good player, and you look at the stats and what's been the trend, who is at the top in the categories. And you go, 'Why is that team always up there? Are there players that much better than me? I'm a good player. OK, so put me in position, coach.'
"So it's been an easy sell, and really the only thing I told the players when came in is trust me. You don't have to like me, none of that stuff. Just trust me."
Horton already had several pieces in place to make the transition to his defense, and Banner and general manager Mike Lombardi provided several more this offseason. Recent draft picks Phil Taylor (defensive line) and corner Joe Haden have joined longtime stalwart linebacker D'Qwell Jackson to give the Browns a superior talent at each level of their defense. To that mix came Kruger, a big free agent signing with the edge ability Horton covets, and free-agent defensive lineman Desmond Bryant, who is having an excellent camp thus far.
Cleveland used the sixth overall pick on Barkevious Mingo -- who has the potential to be pass-rushing force off the edge -- while fourth-year safety TJ Ward has caught Horton's attention, and third-year linebacker Jabaal Sheard could really benefit from the multiplicity of this new scheme.
"The cupboard's not empty," Horton said. "I like the possibility of moving guys around and the interchangeable parts where you're not stuck doing any one thing."
All of this is with a design on turnovers. This offense will need all the help it can get, from a short-field, an extra possession, defensive touchdowns. The quarterback spot is unsettled and a bevy of recent high picks on the offensive side of the ball are very much still in prove-it mode. Considering the defenses the Browns face in the AFC North, Turner has a tall task before him.
Horton is adamant about doing more than his share. When the conversation turns to takeaways, he grabs a report, with each page from a different year, listing the statistical leaders in turnover differential going back at least a decade. On each page the playoff teams are highlighted in green from that season, and, as we flip back through the years, the correlation is obvious.
"You see where all the green teams are, right? Horton asks, with the playoff teams almost always all bunched up in the top 10 of turnover differential year after year, with occasional anomalies to the contrary (like the 2012 Colts).
You also can't help but notice that the Browns are near the bottom in that category, and many others (Cleveland has cracked the top 10 in turnover differential only twice since re-entering the NFL in 1999, most recently in 2008). And as Horton puts down the packet you take one more glance at those rings as you turn to leave you suspect that won't be the case much longer.
Check here for the latest news, rumors and updates for NFL coaching changes and searches

The Titans have tapped Texans defensive coordinator Mike Vrabel to take over as head coach

The government shutdown has come at a horrible time for NFL fans in the U.S. military
Bengals owner Mike Brown seems to be a huge fan of continuity

Our computer model simulated the AFC and NFC title games 10,000 times with surprising resu...

The people of Philadelphia now have two reasons to root for the Eagles this week