RB Adam Muema nowhere to be found since God spoke to him
San Diego State running back Adam Muema left the NFL combine on Sunday after God told him to and he hasn't been in contact with anyone since his abrupt departure.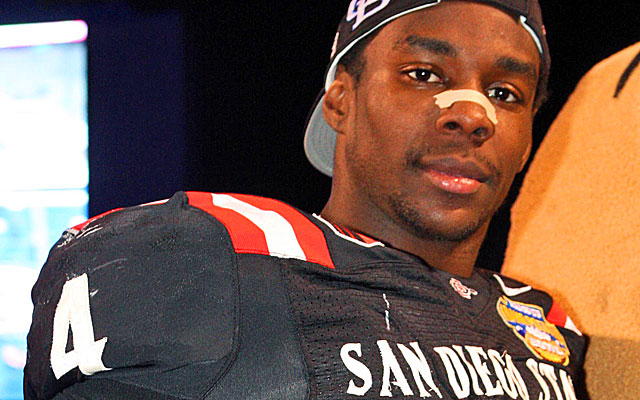 More draft news: Latest mock drafts | RB prospect rankings | Big Board | Latest news
It's been three days since San Diego State running Adam Muema left the NFL combine on Sunday for religious reasons, and his whereabouts are still unknown. Muema hasn't been in touch with those closest to him and no one seems to know where he is, according to U-T San Diego. 
"I have no idea where is," a person close to Muema told the paper. "(San Diego State coaches) have been trying to track him down, too. Every time they do, his phone is off... It's a frustrating deal." 
After leaving the combine, Muema was scheduled to head to his offseason "training base" in Florida, but he never showed up, according to U-T San Diego. Although Muema didn't show up to his "training base," CBSSports.com can report that Muema did get on a flight to Florida on Monday after leaving the combine. Before getting on the flight, Muema did send out this tweet. 
Yes, you guys are right I am crazy, crazy in love with Jesus it is the sweetest name I know.

— Adam Muema (@So_Lucrative) February 24, 2014
Muema left the combine on Sunday because he said God has a plan for him and that plan involves Muema getting drafted by the Seahawks. Muema said that God told him that if he skipped the combine workouts, he'd get drafted by Seattle.
"Can't go wrong with God," Muema said. "He told me to sit down, be quiet and enjoy the peace." Muema told UT-San Diego that he communicates with God through numbers.
A CBSSports.com video producer just happened to sit two rows behind the San Diego State running back on a flight from Indianapolis to Fort Lauderdale on Monday. As you can see in the photo at the bottom of the page, Muema was still wearing the shirt he was given at the combine.
Despite possibly still being in Florida, Muema still hasn't been in contact with his agent and still hasn't been at his offseason training base. Muema's high school coach is just hoping he's safe.
"It's a big mystery," Lou Farrar, Muema's former football coach at Charter Oak High in California, said of Muema's whereabouts. "At this point, we just hope he's safe. As long as he's safe. That's all that really matters."
The former Aztec running back is the fourth all-time leading rusher in school history and rushed for 1,244 yards and 15 touchdowns in 2013. That 2013 total includes a 229-yard, three touchdown performance in San Diego State's 49-24 win over Buffalo in the Famous Idaho Potato Bowl.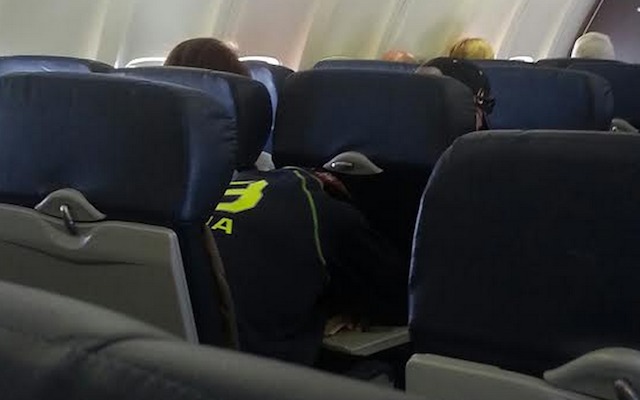 The Eagles lose their franchise quarterback with the playoffs just weeks away

The Packers cornerback held Gordon to one catch on Sunday

Colin Kaepernick, Josh Johnson and Matt McGloin are among the bigger names available
The Rams and Titans look good nearly two full seasons after the Jared Goff trade. But who 'won'...

Also featuring Josh Gordon's 'hater blockas,' some FIFA-inspired celebrations and a hilarious...

The Steelers have struggled against the Patriots during the Belichick-Brady era