RB Adam Muema resurfaces in Florida after leaving combine early
Former San Diego State running back Adam Muema, who left the NFL combine because he says God told him to, resurfaced Friday after not being seen or heard from for four days.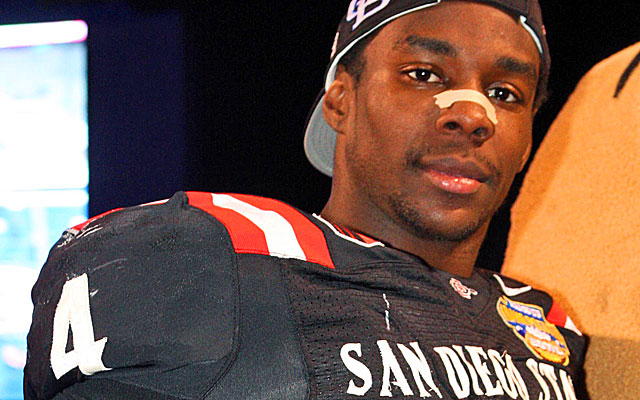 More college football: Bruce Feldman | Dennis Dodd | Jeremy Fowler | Latest news
Former San Diego State running back Adam Muema has resurfaced, five days after he abruptly left the NFL combine citing religious reasons. According to U-T San Diego, Muema showed up on Friday at a Florida-based performance facility where he trained for the combine.
"I know he's fine. I know he's safe," a person close to Muema told U-T San Diego. "But I don't know what happens from here. There are good people that are helping him."
Muema said he left the combine Sunday because God told him to and then basically disappeared. After leaving the combine, Muema went to the Indianapolis airport, where he spoke to a reporter from U-T San Diego on the phone. After that conversation, Muema apparently didn't communicate with anyone for the next five days. 
However, that wasn't the last time Muema was seen. The former Aztec running back was spotted by a CBSSports.com video producer Monday at the Indianapolis airport. It's not clear where Muema slept Sunday night and it doesn't seem like he changed clothes as he was wearing the NFL's combine-issued gear on both Sunday and Monday.  
Even more interesting is that Muema was still wearing the combine-issued gear on Friday when he showed up at his training facility, according to U-T San Diego, a full four days after leaving Indianapolis.
It's not clear either where Muema was from Monday until Friday, but it was most likely somewhere in Florida. Muema and our CBSSports.com video producer were on an Indianapolis to Ft. Lauderdale flight together on Monday, a flight that landed around 1:30 p.m. in Florida.
As you can see below, Muema was still wearing his NFL-issued combine gear on the Monday flight.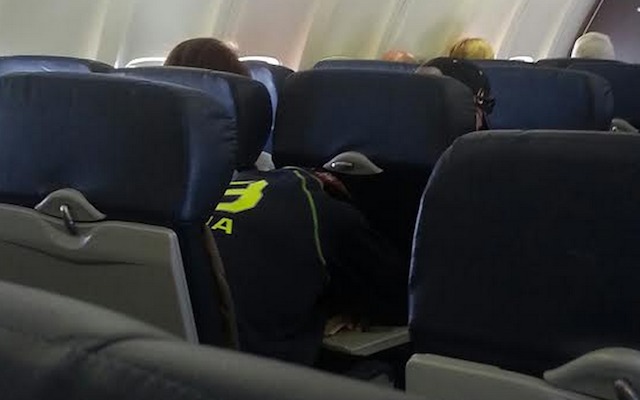 After Muema left the baggage check Monday, he wasn't seen or heard from again until Friday when he called a reporter from U-T San Diego. 
And here's where the story gets stranger, apparently Muema never left the airport in Ft. Lauderdale after arriving on Monday. Former Oklahoma linebacker Corey Nelson, who had been training with the San Diego State running back, told U-T San Diego that Muema spent four straight days at the airport without eating because God told him to. 
Muema began tweeting again on Friday -- after four days of no tweeting -- and confirmed that he did leave the combine because God told him to. 
@AztecRob10 @youkwait : Jesus is the Messiah. Why are you telling me this? I left combine for him.

— Adam Muema (@So_Lucrative) February 28, 2014
Muema left Indianapolis early because he said he believes that God has a plan for him and that plan involves him getting drafted by the Seahawks. Muema said that God told him that if he skipped the combine workouts, he'd get drafted by Seattle.
"Can't go wrong with God," Muema said on Sunday. "He told me to sit down, be quiet and enjoy the peace." Muema told UT-San Diego that he communicates with God through numbers.
Although he was in Florida on Friday morning, Muema is expected to fly to Los Angeles at some point on Friday. The running back was at an undisclosed airport on Friday and told a U-T San Diego reporter that he plans to fly "home." 
"I'm glad he's safe, obviously," a source close to Muema told U-T San Diego on Friday. "But the last thing I think he needs to be doing is be talking to anyone, on Twitter, media, anything like that. He just needs to get his life right ... I hope he stops being a story."
Colvin was a big part of Jacksonville's defensive improvement but is likely moving on

Vinatieri is about to finalize a deal to return for his age-46 season

Freddie Roach is one of the most decorated boxing trainers there is
Gruden knows about the pressure of his new gig, and he isn't shying away from it

Miami is one of the half-dozen most intriguing teams this offseason amid free-agent and trade...

The Ravens are reportedly intrigued by Gillmore, who is set to become a free agent