RB Ben Tate: 'Odds are I won't be back' with Texans next season
Running back Ben Tate doesn't expect to return to Houston once he hits free agency.
• 1 min read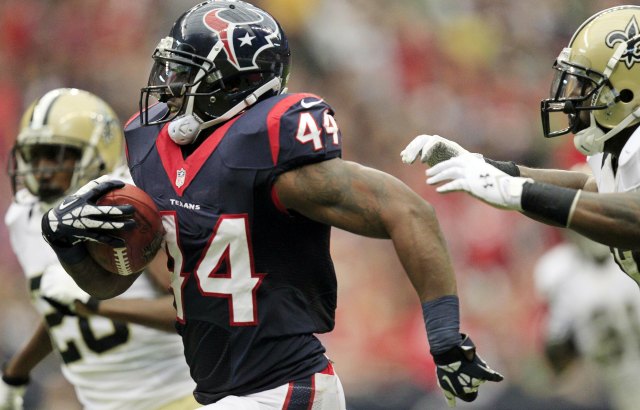 Ben Tate spent much of his season playing with four cracked ribs before finally relenting and going on the IR list after he broke a fifth rib. And if you asked the Texans running back, he'd tell you that's probably the last you'll see of him in a Houston uniform.
Tate, who made $630,000 in the final season of his contract, will be a free agent this offseason, and he doesn't anticipate a return to the Texans locker room.
To wit:
Cleaned out my locker going to miss the guys on this team....we have a lot of good ppl on this team and everyone was cool from the....

— Ben Tate (@BenTateRB) December 30, 2013
Trainers to the equipment guys always made it a good time while still getting work done being drafted here I learned a lot that I will

— Ben Tate (@BenTateRB) December 30, 2013
Carry on for the rest of my career thanks Htown for all the support but odds are I won't be back

— Ben Tate (@BenTateRB) December 30, 2013
After having to replace Arian Foster, who missed eight games, at the starting spot, Tate gained 771 yards (with a 4.3 yards per carry average) with four touchdowns to go with 31 catches.
Though Tate acquitted himself well this season, the 25-year-old most certainly will want to find an opportunity where he can find a starting job. With Foster signed through 2016 -- and owed about $18 million between now and then -- that seems unlikely to happen in Houston.
Follow Josh Katzowitz on Google+
The inaugural youth world championships kicked off on Dec. 14 with more than 100 teams

The first-year cornerback has not been active in four weeks and drew a suspension earlier this...

McCown will help the coaching staff work with Bryce Petty and Christian Hackenberg
The Browns have a long way to go to be AFC North champs

Five selections against the spread for the upcoming Week 15 slate of NFL games

Here are 10 things to watch in Week 15, including a hot Bortles, a cold Brady and a new Eagles...