RB Brandon Jacobs on 49ers coach Jim Harbaugh: 'He's a bitch'
Don't get Brandon Jacobs started on his feelings for 49ers coach Jim Harbaugh.
• 1 min read
When an NFL player has a disagreement with his former coach and wants to let the general public know about it, there are two ways he can go about disseminating the information. He can take the Darrelle Revis model and be diplomatic about the disagreements he and his teammates had with former Buccaneers coach Greg Schiano.
Or he can call his former coach "a bitch." We can call that the Brandon Jacobs model.
When discussing 49ers coach Jim Harbaugh on the Boomer and Carton show on WFAN, the former Giants running back said Thursday, "He is a bitch, and that's why he's never won anything.
So, um, wow.
And also, say what?
More from CBS New York:
"I have one regret in my career, and that's going to the 49ers when I could have stayed in New York," Jacobs said. "I just wanted to see what stuff was like with another team and it didn't work out."

Jacobs said he "wasn't liked" and it felt as if he was being "held hostage" in San Francisco.

"It is what it is," he said. "I've got two rings. Harbaugh, though, he's a bitch. So it doesn't matter."
After playing just two games for the 49ers in 2012, gaining seven yards on five carries and fuming, we assume, for the entire time he was in San Francisco, Jacobs returned to the Giants in 2013 and recorded 238 yards and four touchdowns in seven games before a knee injury shut down the rest of his season.
In January, he announced his retirement. As he mentioned, he has two Super Bowl rings on which to fall back. Not to mention a whole lot of dislike for his former coach in San Francisco.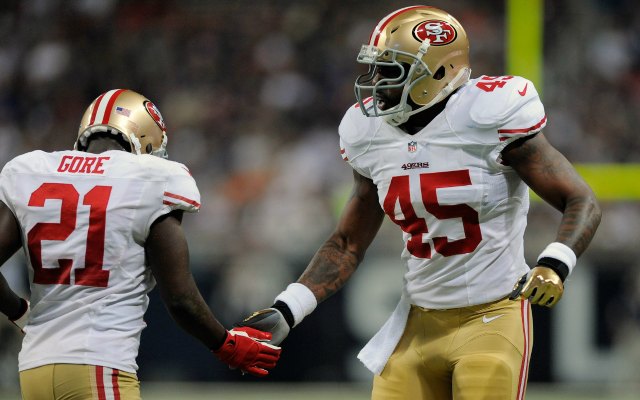 It appears the Raiders didn't break any rules during their hiring of Jon Gruden

Jacksonville cornerback does not lack confidence heading into AFC Championship

Payton was seen mocking Vikings' fans at the end of the Saints-Vikings game on Sunday
Tom Brady didn't really feel like talking about his hand injury on Friday

Anderson was also arrested in May

Conspiracy theorists, your time has come