Reality of free-agent contracts means that most teams have an out
The Broncos seem to be all-in to surround Peyton Manning with enough help to win a Super Bowl. But is Denver really committing as much as it seems?
• 10 min read
More NFL offseason: Mock Drafts | Prospect Rankings | Pro Days | Top free agents
Numbers do lie. Especially in the NFL.
With most of the premier players already landing with new teams and the full contract terms of those deal being registered with the NFL and NFLPA, only now can we view these deals with a clear lens.
The murkiness that comes with back-ended contracts and bloated figures is peeled away, and the claims of more than $1 billion being spent on the first day of free agency ring hollow.
This is the true landscape for players these days: Contracts are not guaranteed (as we know), and even many guarantees aren't really guaranteed. Teams demand rolling guarantees with a period of time each year in which a player they just signed can be released after any given season with almost no cash or cap consequences. This is a business where the numbers that draw the most attention -- the maximum values of deals -- draw all the attention, but carry none of the weight.
When stripped to their core these contracts often reveal a different reality.
Truth is, once a team has churned through the portion of a contract where the guarantees have expired players generally become expendable -- especially those who aren't living up to the often unattainable standard of deals that includes heavy roster bonuses or bloated base salaries in the later years of the deal.
This is how how business is done in the NFL, and it won't be changing anytime soon -- especially as long as teams must front the money for full guarantees ahead of time by placing that money in escrow.
So, if you really want to peek into the economics of NFL free agency, you must do so by stripping down these deals to their core elements. In the end, due to language in the contract or age of the player, a team either releases a player, trades him, restructures the deal or demands a pay cut. The cycle always continues.
Keep in mind, the guys who got huge money a few years back so often find themselves looking for work just two or three years later, sometimes even longer. Invariably that will be the case again, especially for those who are over the age of 30, incur some injury issues or who carry off-field baggage.
Furthermore, as more teams are staying away from doling out huge upfront money and adopting more of a "pay-as-you-go" philosophy to their contract structure, it makes it increasingly easy to jettison players without major cap ramifications.
With that in mind, here is a look at some of the more prominent deals doled out this week, and a look at what the commitments are from the clubs, at their very least, rather than as it is usually reported, which is in the form of the maximum dollars the team could spend:
CB Aqib Talib , Denver Broncos
Max deal: 6 years, $57M: Could be: 1 year, $12M
This is, at its core, the Darrelle Revis deal, only before the Revis deal was struck -- and Talib isn't Revis. Talib got a modest $5 million signing bonus to go with a $4.5 million salary and a $2.5 million roster bonus this season -- hence $12 million. He has a $500,000 roster bonus due in 2015, and his $5.5 million salary in 2015 is guaranteed only for injury right now and does not become fully guaranteed until the third day of the 2015 league year (next March).
So, there is an obvious window that, if Talib -- who has a checkered past off the field -- is deemed to be expendable for any reason other than health, then he could find himself a free agent for the third straight year.
The Broncos are fully protected. They are renting Talib year-to-year, and if, say, Peyton Manning hangs it up after the 2014 season (and let's not pretend these Broncos moves are anything other than an all-in to capitalize on this period of opportunity with their aging franchise quarterback) and the Broncos decide to dismantle a chunk of this team before they have to start paying kids like Demaryius Thomas and Julius Thomas and rebuild, they have plenty of flexibility to do just that with the Talib contract and the next two listed below.
S TJ Ward, Broncos
Max deal: 4 years, $22.5M. Could be: 1 year, $7M
This could end up being essentially like franchising Ward for a season -- which is what many expected the Cleveland Browns would do before they placed the transition tag on C Alex Mack , and thus eliminating the ability to franchise anyone else.
Ward receives $5 million to sign and makes $2 million in 2014, but his 2015 roster bonus of $2.5 million is guaranteed for injury only, and his base salary is guaranteed for $4 million that season as well. So, if for performance or cap reasons the Broncos want to dump him, they can. At this point there is no real guarantee he gets the entire $6.5 million he would make in 2015 in Denver.
DE DeMarcus Ware , Broncos
Max deal: 3 years, $30M. Could be: 1 year, $16.5M
Ware will make $13 million in 2014 among signing bonus, base salary and roster bonus. But the $10 million due him in 2015 ($7M in salary and $3M in a March roster bonus) is not fully guaranteed, other than for injury, so if the Broncos cut him for cap or performance in 2015 in addition to the $13M he made in 2014, he would get an additional $3.5 million.
LB Karlos Dansby , Browns
Max deal: 4 years, $24M. Could be: 1 year, $12M
Dansby is an older inside linebacker -- an extremely disposable commodity in this day and age -- and this is a hell of a deal to get the bulk of this money his way as soon as possible, in the form of $6 million roster bonus, $4 million fully guaranteed salary in 2014, and with $2 million of his 2015 deal fully guaranteed as well. Given all of that, one would suspect the Browns have him for two years, at $14 million, and come 2016 it is anything but guaranteed Dansby, already 32, will be making $5 million that season.
So the Browns bought themselves a stopgap after the loss of D'Qwell Jackson , and did so at a very high 2014 cash expenditure.
S Donte Whitner , Browns
Max deal: 4 years, $28M. Could be: 1 year, $13M
Whitner received $9 million to sign, has a guaranteed $2 million salary for this season and has $2 million of his 2015 salary ($4.5M) guaranteed as well. So, this is designed to be a two-year, $15.5 million deal. Nothing more, nothing less. By 2016 Whitner would be 30, and if the Browns don't want to pay him $6.2 million that season, there is nothing compelling them to do so.
Alterraun Verner , Bucs
Max deal: 4 years, $25.5M. Could be: 1 year, $8M
Verner receives no signing bonus, but will make $8 million in 2014 between base salary and roster bonus. However, his $4.25 million salary in 2015 is guaranteed for injury only at this time and does not become fully guaranteed until the third day of the 2015 league year. The reality is that salary figure is hardly crushing for a starting corner, especially one who was a Pro Bowler for the Titans in 2013, but if for some reason besides injury things do not work out, Tampa Bay is very protected.
DE Michael Johnson , Bucs
Max deal: 5 years, $43.75M. Could be: 1 year, $12M
Johnson does not get a signing bonus either -- the Bucs have long been ahead of the curve on not giving out big bonuses that get prorated and screw up future years of the cap. In this case, Johnson gets $9 million in salary and roster bonus in 2014, and has $3 million of his 2015 salary fully guaranteed. Johnson also has a $4 million roster bonus that is due in 2015 as well.
So the Bucs have an out ... but this contract includes language that prohibits an "offset," so if Johnson is released he gets to keep whatever compensation he has earned from the team in any given year, and then also double dip and get a full portion of whatever money he earned from a new team as well.
T Anthony Collins , Bucs
Max deal: 5 years, $30M. Could be: 1 year, $9M
Collins will make $6 million this season and has $3 million of his 2015 compensation fully guaranteed at this time. But again, you guessed it, Tampa Bay doled out no signing bonus. So they could give him $3 million to leave in 2015 if for some reason -- other than injury -- they feel the need to. In reality, this is a two-year, $12 million contract and if the Bucs want to stop paying him $6 million a year after that, there is nothing precluding them from doing that.
DL Michael Bennett , Seattle Seahawks
Max deal: 4 years, $28.5M. Could be: 1 year; $10M
Bennett gets a $2 million salary and $8 million signing bonus, but his 2015 salary ($6M) is only fully guaranteed for injury at this point and becomes fully guaranteed after the season. In all likelihood it's at least a two-year, $16 million deal, barring something unexpected happening, and then come 2017 Bennett has a $1 million roster bonus and $4 million base salary and by that time Bennett is 30 and, well, a lot can happen in two years.
LB Lamarr Houston , Chicago Bears
Max deal: 5 years, $35M. Could be: 1 year, $9M
Houston's 2015 salary of $6 million does not become fully guaranteed until after this season, and with just a $5 million roster bonus, the Bears don't have any future cap charges hanging over their head. In reality, this is a two-year, $15 million deal, and the reality is Houston will have to earn his $6 million annual salary each year based on his health and performance.
T Jared Veldheer , Arizona Cardinals
Max deal: 5 years, $35M. Could be: 1 year, $7.5M
Only half of Veldheer's $6 million salary in 2015 is fully guaranteed, and the rest becomes fully guaranteed if on the roster the third day of the 2015 league year. His signing bonus is just $6.25 million, paid out in the first year, and he has a $500,000 roster bonus due in 2015, so, if the Cards wanted to release him for cap or performance issues before 2015, they could.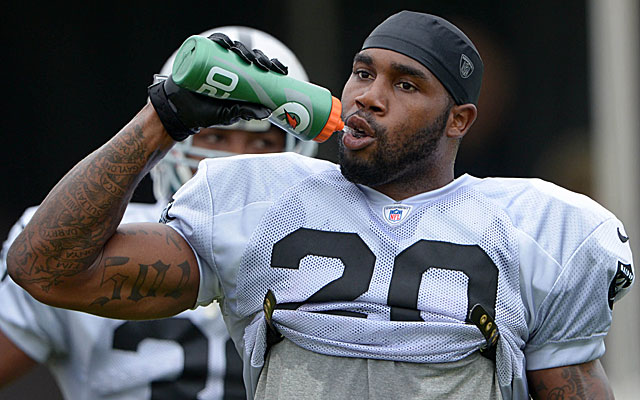 RB Darren McFadden , Oakland Raiders
Max deal: 1 year, $1.75M. Could be: A few months, $100,000
The only thing guaranteed for the running back, upon his return to Oakland, is that he got $100,000 to sign. He has a $256,000 roster bonus still yet to earn and a $1.25 million salary he will have to earn as well, with the chance to make $16,000 for every game he is on the roster this season. This is the ultimate "prove-it" contract.
T Eugene Monroe , Baltimore Ravens
Max deal: 5 years, $37.5M. Could be: 2 years, $17.5M
Monroe has his 2014 and 2015 base salaries fully guaranteed, and receives an $11 million signing bonus. The reality is, as long as he is healthy and still a legit starting left tackle, his 2016 salary of $6.5 million will be manageable for his position. But as we know, an injury could end up changing everything.
S Malcolm Jenkins , Philadelphia Eagles
Max deal: 3 years, $15.5M. Could be: 1 year, $8.5M
Jenkins, in keeping with the smart way the Eagles have been doing their deals, gets $5 million to sign and just $1 million in base salary in 2014. In 2015, $2.5 million of his $4 million salary is fully guaranteed, and if he plays two years in Philly he gets $10 million. In 2016, there is a $500,000 roster bonus due in March that would be the precursor to his exit should this not be working out to Chip Kelly's liking.
G Zane Beadles , Jacksonville Jaguars
Max deal: 5 years, $30M. Could be: 1 year, $10.5M
Beadles has his base salaries in 2014 and 2015 (worth a total of $6M) fully guaranteed, but his 2015 roster bonus of $2 million is not guaranteed for injury. So, in the event of a major health problem, the Jaguars would be totally protected moving forward beyond that $10.5 million cash outlay.
DE Everson Griffen , Minnesota Vikings
Max deal: 5 years, $42.5M. Could be: 2 years, $20M
This is in essence the same money the Browns gave Paul Kruger -- another promising but unproven pass rusher -- a year ago, and once Griffen gets past the guaranteed base salaries in 2014 and 2015 the Vikings can decide whether he is worth $7 million per season.
S Antoine Bethea , San Francisco 49ers
Max deal: 4 years, $21M. Could be: 1 year, $6.75M
Bethea has a $400,000 roster bonus due in 2015, and his $3 million base salary does not become fully guaranteed unless he is on the roster on April 1, 2015. So this, too, amounts to a one-year deal at the safety franchise total, and then it's pay-as-you-go after that.
WR Eric Decker , New York Jets
Max deal: 5 years, $36.25M. Could be: 2 years, $15M
Decker has fully guaranteed salaries in 2014 and 2015, which, combined with his $7.5 million signing bonus, amount to $15 million. If he isn't a difference maker and not who the Jets think he is -- or who he was with Peyton Manning throwing him the football -- then he could be cut at virtually no cash or cap cost and his $6.5 million salary for 2016 is not guaranteed in any fashion.
Cowboys rookie Jourdan Lewis got some good news on Tuesday.

The Ravens might need some help at running back

The Jaguars are making people rich
It looks like Michael Vick is hoping to make the transition from player to coach

The former undrafted free agent is about to get a huge raise

Both Malik Hooker and Andrew Luck are on the PUP list, so maybe it's time to start worryin...