Redskins don't agree with NFL suspension of S Brandon Meriweather
The Redskins didn't enjoy Monday's news that Brandon Meriweather would be suspended for two games.
• 1 min read
After six career rules violations regarding hitting defenseless players and impermissible use of the helmet, the NFL on Monday suspended Washington safety Brandon Meriweather for two games, the second-straight season Meriweather has been punished for these kinds of hits.
Coach Jay Gruden said Tuesday that Meriweather will appeal, meaning his case now will be heard either by Ted Cottrell or Derrick Brooks. But in any case, Gruden said Meriweather has worked hard on lowering his shoulder when going in for big, booming hits.
Perhaps he did when blasting Ravens receiver Torrey Smith last week.
Smith said he didn't think the hit warranted a suspension, and not surprisingly, Meriweather's teammates agree.
From Nick Sundberg, the team's long snapper (H/T to the Post).
Sketchyyyyyy... Seems a bit excessive, I mean it's not like he knocked out his wife in a casino elevator... On video...

— Nick Sundberg (@NickSundberg) August 25, 2014
Others, like Brian Orakpo, seemed a little more upset.
This some BS!!!!!! Meriweather 2 games suspension really smh

— Brian Orakpo (@rak98) August 25, 2014
Well, maybe the Redskins should bring their complaints to the league's competition committee. Right, DeAngelo Hall?
@nicefellow31 that committees a joke. They ask for your opinion then do what they want to do anyway. Pointless why even bother

— DeAngelo Hall (@DeAngeloHall23) August 25, 2014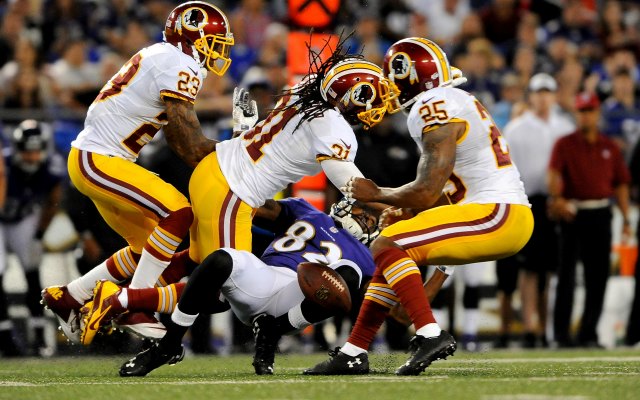 R.J. White, who nearly won the Las Vegas SuperContest, locks in his pick for the NFC Championship...

Mike Tierney has owned NFL totals and has a strong pick for the AFC Championship Game

The Saints coach wasn't in the mood to answer questions about Drew Brees on Tuesday
This is footage that you'll definitely want to see

It wasn't the matchup that we expected, but the Jaguars would argue that's everyone else's...

The Eagles quarterback and the Vikings quarterback have paths that have crossed many times