Redskins LB London Fletcher: NFC East is terrible this year
Redskins linebacker London Fletcher says the NFC East is terrible this year, which he says is a good thing for his team.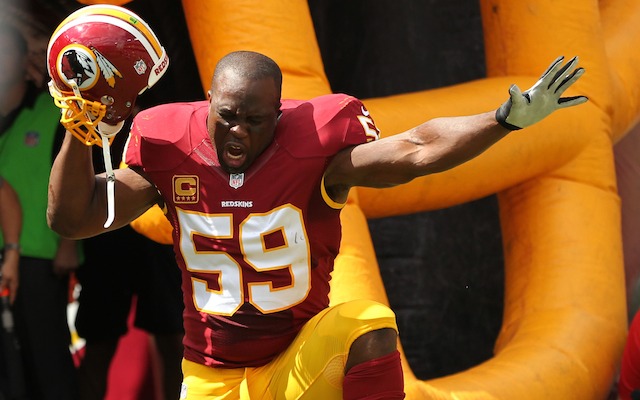 If you read our Division Power Rankings here at CBSSports.com, then you probably know that the NFC East has been horrible this year. If you don't read our division power rankings, but you've watched some NFC East football this season, then you probably also know it's been horrible. 
Redskins linebacker London Fletcher has no problem admitting that the NFC East has been bad this season and that's mainly because his team could still win the division title, despite a 3-6 record after nine games.  
"The great thing about this year is that the NFC East is so terrible," Fletcher said, via Philly.com. "You look at it and we're in Week [11], and our leader is 5-5. So even at 3-6, we're conceivably still in this thing. Every team has been so bad, nobody's really been able to separate themselves, so that's good for us. That's good for everybody [in the division]."
Dallas and Philadelphia currently lead the NFC East with 5-5 records. The Giants and Redskins both sit two games back with identical 3-6 records. If you count tiebreakers, the Cowboys are currently in first, followed by the second-place Eagles, third-place Giants and last-place Redskins. 
However, just because the Cowboys are in first doesn't mean they're the best team, at least according to Fletcher. Fletcher ranked the NFC East teams based on 'who's hot right now' and he had the Cowboys in third. 
Here's Fletcher's NFC East ranking with his comments next to each ranking: 
1. Eagles: The Eagles are playing really good football right now. They're probably the top team in our division right now.
2. Giants: The Giants have won three in a row. 
3. Cowboys: The Cowboys really struggled the other night against the Saints.
4. Redskins: Based on who's hot right now, you'd probably have to go Eagles, Giants, Cowboys, and then us, if I had to rank them.
So basically, Fletcher thinks he plays on the worst team in a 'terrible' division. Fletcher's rankings might have a slightly different look after Sunday if the Redskins can beat the Eagles. Maybe he can help our very own Pete Prisco with his Power Rankings next week. 
Let's call it the Blair Walsh revenge game

Jeremy Lane also stood near Bennett along with pass rushers Cliff Avril and Frank Clark

Bennett also dedicated it to 'all of the other athletes using their platform to promote ch...
The Patriots quarterback shows commitment from Day One

Cardinals' running back says he's feeling more energized

The Vikings' receiver is wearing his heart on his foot