Redskins OC Sean McVay: Robert Griffin III in 2012 form
Robert Griffin III is playing like it's 2012, which is good news for everyone in Washington. With a healthy Griffin that season, the Redskins won the NFC East for the first time since 1999.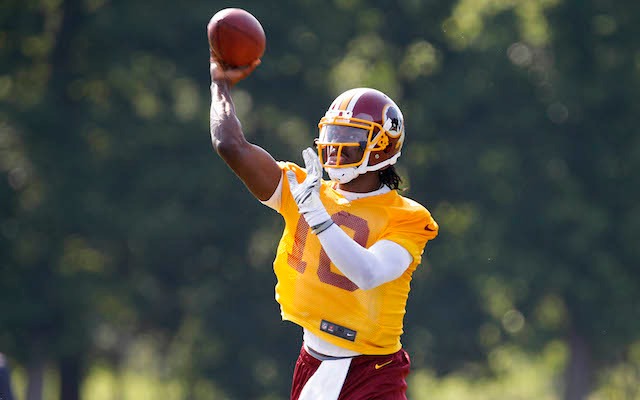 First-year offensive coordinator Sean McVay has some good news for everyone in Washington and that good news is that Robert Griffin III is looking as good as he did two years ago. 
RG3 won the 2012 offensive rookie of the year award after completing 65.6 percent of his passes for 3,200 yards and 20 touchdowns in 2012. However, Griffin's numbers went down in 2013, a season where he played with a knee brace thanks to an ACL tear he suffered in the playoffs during his rookie year. 
That knee brace is now gone and McVay says RG3 already looks more explosive. 
"I don't think there's any question: he looks explosive," McVay told WTEM-AM in DC, via the Washington Post. "He looks like he is exactly what he was in the 2012 season. I think people underestimate when you have a brace on your knee how much that truly restricts you... So I think being able to take that off, he looks extremely explosive."
Redskins receiver Pierre Garcon said last season that he thought the brace was slowing Griffin down. Without the brace, McVay says RG3 will become the dual-threat he was in 2012.
"When you're  a quarterback that has the ability to kind of buy time with your legs, keep your eyes downfield and then if guys are playing with their back to the quarterback, now he's got a chance to take off and run it and create yards that way," McVay said. "So I think that's going to be a big part of what he does. And he's continuing to get more and more comfortable feeling some of those soft spots in the pockets, and being able to remain a passer while also understanding that hey, I do have this elite trait with my legs and athleticism, that if things do break down I can create that way also."
If you're wondering what kind of damage RG3 can do with his legs, consider this: Before his ACL injury in 2012, Griffin rushed for 815 yards and seven touchdowns. Those numbers went way down in 2013, a season where Griffin rushed for 489 yards and zero scores while wearing the brace. 
If 2012 Griffin really is back, I wonder what he thinks about 2014 Griffin taking selfies with Johnny Manziel.
Here's an up-to-date look at the 2018 Pro Bowl roster

New England is 3-0 wearing white in Super Bowls under Bill Belichick

Bettors are favoring the Eagles to keep Super Bowl LII close, but the Patriots remain clear...
No one wants to give the Eagles any respect

The three-time Grammy winner will sing before Super Bowl LII on Feb. 4

Here's a look at the NFL's entire postseason schedule for 2018