Redskins S Brandon Meriweather suspended two games for helmet hit
Brandon Meriweather will miss the first two games of the season after being suspended by the NFL on Monday.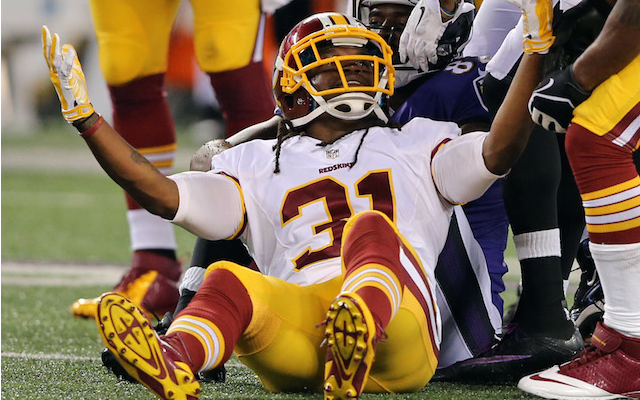 Washington Redskins safety Brandon Meriweather will miss the first two games of the regular season after being suspended by the NFL on Monday for a helmet-to-helmet hit he made against the Ravens on Saturday. 
According to the league, Meriweather's hit on Ravens wide receiver Torrey Smith was his 'sixth violation of unnecessary roughness rules relating to hits to defenseless players and impermissible use of the helmet.'
The two-game ban marks the second straight season that Meriweather has been suspended for a hit. The Redskins safety was also suspended one game in 2013. Last season's suspension was originally a two-game ban, but Meriweather got it reduced to one game.  
As for this season, should Meriweather have been suspended? You can judge for yourself below (via @CJZero). 
Forget about the suspension for a second though because after the game, Meriweather said he didn't even think he should have been flagged. The Redskins safety was asked directly if he thought he should have been penalized.
"No, I don't," Meriweather said. "But at the same time, I'm not the one who wrote the book on penalties. I tried to aim at his numbers. I kind of seen the pass go, and I went in and aimed low, and I hit him with my shoulder. I did everything my coaches taught me to do, and I got the flag."
Redskins teammate DeAngelo Hall doesn't think Meriweather did enough to warrant a suspension.
Fair is Fair. I can't speak on @BMeriweather31 past hits but from what I saw that hit was not malicious. @nfl please review your decision

— DeAngelo Hall (@DeAngeloHall23) August 25, 2014
As things stand, Meriweather is eligible to play in Washington's final preseason game, he's also allowed to practice with the team from now until the preseason's over. The 30-year-old's suspension will begin on Sept. 1 and Meriweather will be eligible to return to the Redskins' active roster on Sept. 15.
Under terms of the CBA, Meriweather has three days to appeal the suspension. 
SportsLine's top NFL experts give their top picks for Patiots-Jaguars and Eagles-Vikings

Campbell was already talking about a potential Super Bowl berth shortly after his signing

The study, published on Thursday, found that even at younger levels football can be danger...
The Eagles and Vikings have two of the best defensive fronts in the NFL

Starting left guard Stefen Wisniewski says the Eagles' success is about more than just one...

Kaepernick made the pledge in October 2016 in the middle of his campaign for social equali...