Redskins TE Fred Davis suspended indefinitely by NFL
The NFL announced on Wednesday that Redskins tight end Fred Davis has been suspended indefinitely for violating the league's substance abuse policy.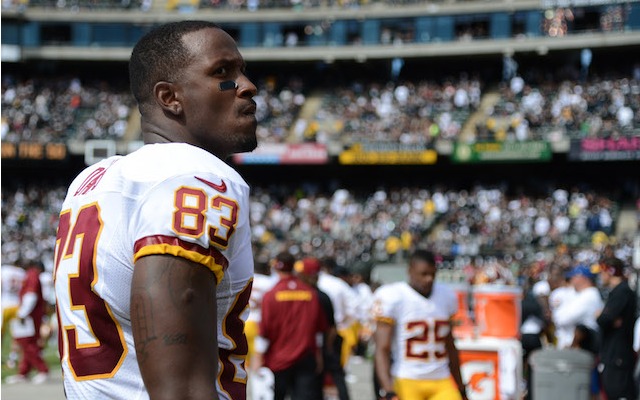 Washington Redskins tight end Fred Davis has been suspended indefinitely for violating the NFL's substance-abuse policy, the league announced on Wednesday. Davis will be suspended without pay and the suspension will be begin immediately. 
CBS Sports NFL Insider Jason La Canfora reported in January that Davis had failed a marijuana test and would be subject to a six-game suspension. Although the NFL announced that Davis' suspension is 'indefinite,' when all is said and done, it could turn out to be six games as La Canfora originally reported. 
This is the second time Davis has been suspended in his six-year career. The 28-year-old tight end was also suspended for the final four games for the 2011 season. That suspension was also for failing a marijuana test. 
Through the NFLPA, Davis has released a statement on his indefinite suspension. 
I would like to clarify the circumstances that resulted in my current suspension. In the past, I made the mistake of knowingly ingesting a banned substance. For over two years, I've worked very hard to eliminate marijuana from my life, and I have not had a positive test for it since 2011.

Unfortunately, a couple of months ago I took a supplement that contained a banned substance. I now know that supplements are not regulated by the FDA and may contain banned substances. The NFL Policy is strict, and not knowing that a supplement might contain a banned substance doesn't excuse a violation of the policy.

I've worked closely with the NFLPA and NFL to resolve this violation, and I will be permitted to apply for reinstatement in the fall. I look forward to staying in football shape, remaining in compliance with the NFL policy, and having a chance to get back on the field to contribute to a team's success next season.
The suspension likely won't affect the Redskins too much. Davis is set to become a free agent on March 11 and the indefinite suspension isn't something that's likely to help his prospects of finding a new team. 
In 2013, Davis battled an ankle injury for most of the season and was inactive for six games. Davis didn't factor into the Redskins offense at all in the 10 games he did play, catching only seven passes on the season for 70 yards. 
The defensive tackle might not be ready to play in Week 1

Coming soon to a Dallas-area high school this fall: Prime Time as offensive coordinator

The Steelers might not be getting their star running back anytime soon
Another day, another costly injury to a Colts starter

The Seahawks defensive end believes someone from 'the other side' needs to step up

Our annual Madden sim is all kinds of crazy, from the Pats not winning the division to a wild...