Redskins training camp: Defense is better, but what about RG3?
As RG3 goes, so go the Redskins. A proven rushing attack and improving pass rush need the QB to step up to make Washington an NFC East contender.
More NFL: Photos | Videos & GIFs | Training Camp updates | Manziel watch
The Redskins finished 3-13 but were better than the record indicates. One coach said there is a feeling around the club it can pull off what the Chiefs did last season.
A couple of numbers on offense (No. 9 in overall offense, No. 5 in rushing) bear that out. Defensively, Washington was No. 18, which isn't great, but as one coach said: "The cupboard isn't empty."
After Monday's morning practice against the Patriots, one player said, "We will go as far as RG3 [QB Robert Griffin III] can take us." And I am impressed with the effort and commitment Griffin has put into making himself great, but he still needs time -- especially in a new offense. RG3 said he's optimistic about his development and excited about the weapons around him.
A full-padded practice vs. the Patriots with lots of situational play gave me an excellent first look at the 2014 Redskins. The Patriots challenged the Redskins in every facet, and Washington's response was good.
What to expect on offense: Washington is a run-first team with Alfred Morris, but the speed and talent at the receiver position may change the run-to-pass ratio. New coach Jay Gruden liked to throw in Cincinnati and after watching practice I expect more throws than in RG3's first two years. Gruden's biggest challenge is figuring out what works for RG3 in the new coach's system. Gruden developed Andy Dalton into a $115M QB, but he probably needs a different plan for Griffin. The coach and QB seem excited about the prospects of developing an offense together. Griffin said he has no problem sitting down with his coach and talking over the offensive agenda.
An interesting component in this offense is its ability to run to the left, setting up the bootleg to the right. RG3's outside-the-pocket game is terrific, especially going to his right (he's a right-handed passer). However, defenses will scheme to contain RG3, so sooner or later he will have to learn to throw more from the pocket as a primary threat for success this season.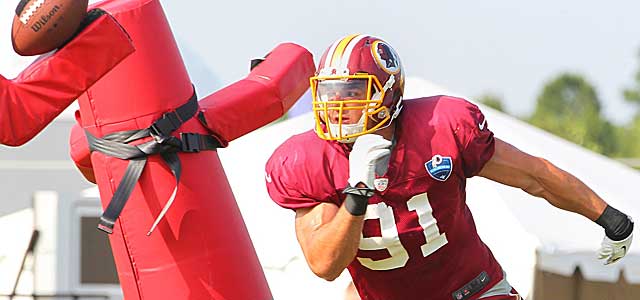 What to expect on defense: Defensive coordinator Jim Haslett is fired up about his unit's potential. He will work primarily out of a 3-4 but will have one-gap potential, too. Haslett likes inside linebackers Perry Riley and Keenan Robinson because they are hitters with long arms who can drop into coverage. Haslett also likes pass rushers Ryan Kerrigan, Brian Orakpo and rookie Trent Murphy because they they have flexibility and could be "hybrid" players.
That defense was tested in the scrimmage by Tom Brady's machine. The no-huddle offense knocked the Redskins on their heels initially, but Haslett thought his defense adjusted to the tempo and played well.
The Redskins will be better against the run, but may struggle early against teams that go 10 personnel (four WRs, one RB) and force Washington to go "dime" defense, which could expose secondary issues.
Haslett will keep most opponents under 30 points, but shouldn't have to blitz as much as he did in recent years to pressure the QB at the risk of giving up big plays.
Rookie report: The Redskins didn't have a first-round pick but they connected in the second with DE/OLB Murphy, who will be a factor in the sub package. OT Morgan Moses is raw but he needs to progress quickly so he can push RT Tyler Polumbus and strengthen the right side of the line. The same could be said for third-round pick Spencer Long at right guard. The fourth-rounder, WR Ryan Grant, was an interesting selection and is good enough to make this team.
The big questions
1. Can the Redskins still be a top-five rushing team? The Skins can and will run the ball, though they appear to be left-side dominant. So they'll need to improve right-side run blocking or defenses will overplay their tendencies.
2. Will the pass rush improve? Washington was No. 21 in sacks last season, and added Jason Hatcher and Murphy. Kerrigan said he, Brian Orakpo and Murphy can play up front with their hand on the ground, so I expect the third-down pass rush to improve.
3. Where is RG3's development? He remains a work in progress with a solid work ethic and desire to be a better pocket passer. Right now, he's best in the passing game with short, quick attempts from the shotgun. It will take time to develop his downfield game, and finding his third and fourth reads.
4. Can Washington get back in the division race? Last year they were 0-6 and averaged only 18 points vs. the NFC East. Adding WRs DeSean Jackson and Andre Roberts should pick up the scoring and make them viable in the division.
On the bubble: GM Bruce Allen is building the back end of this roster which figures to land some veterans on the bubble. Santana Moss has five speedy, young receivers in front of him and could be tradable within a few weeks. Colt McCoy looked better in camp Monday than in recent years, but unless the Skins keep three QBs, he could be gone. OLBs Everette Brown and Adam Hayward and safety Bacarri Rambo will have to fight to make the roster, too.
Outlook: The Redskins will rebound to at least 8-8, but to squeeze out the more wins to reach 10-6 and challenge for the NFC East title, they need Griffin to be great. I see the Redskins as wild-card contenders with an outside chance to win the division. A 9-7 record is attainable.
Mark Lamping wrote a letter to apologize to Jacksonville's director of military affairs ch...

PEN America says the NFL's talks on social activism are a 'constructive' step forward for owners,...

The Steelers quarterback weighs in on the hit that might've ended Rodgers' season
Smith was not pleased with the Steelers safety's hit on him

SportsLine's Mike McClure, a DFS pro with more than $1M in winnings, gives optimal lineup...

Many players and owners met on Tuesday to discuss the national anthem and social issues