Reed, Brooks, Jones, Strahan, Williams, Guy, Humphrey make HOF
The 2014 Hall of Fame class will include seven new inductees.
• 5 min read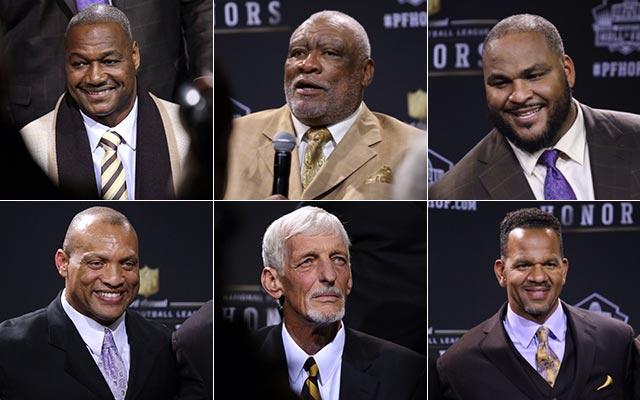 More HOF: Haley, Bettis, Brown Harrison Hall snubs
After a meeting that lasted a record eight hours and 59 minutes, the 2014 class of the Pro Football Hall of Fame includes receiver Andre Reed, linebacker Derrick Brooks, tackle Walter Jones, defensive end Michael Strahan, cornerback Aeneas Williams, punter Ray Guy and defensive end Claude Humphrey.
Here were the reasons why:
Derrick Brooks, linebacker for the Buccaneers (1995-2008): He's one of the most important players in Tampa Bay franchise history, and though he probably would have loved to go into the HOF with his former coach Tony Dungy and his former teammate, safety John Lynch, that was unlikely to happen. Instead, Brooks was voted in because he was a tackling machine (from 1996-2000, he recorded at least 130 tackles per season) and because he picked off 25 career interceptions, including six that were returned for touchdowns. Brooks is one of the best outside linebackers of all time, and it would have been a shock if he wasn't elected on his first ballot. Said Brooks: "It's hard for me to imagine me playing this game and my spirit not realizing it's a team. I guess I can't bring my teamates in with me but their spirits are. I guess it's OK to accept this award on my personal behalf but I'm always thinking of those guys. I'm going to enjoy the moment for Derrick."
Ray Guy, punter for the Raiders (1973-86): He'd missed out making the HOF as a modern-day finalist seven previous times, but this time, he was elected by the senior committee and made it in that way. It's unclear why the 46 voters would keep him out for so many years, only to wait until the eighth (!) time he was up for election to finally make this decision, but none of that likely matters to the man who changed the way we thought about punters. His 42.4 yards per punt average feels so antiquated, but he also led the league in average three times, and if Guy was punting these days with this equipment and training, there's little doubt he'd be one of the best in the league. And oh yeah, Guy is the FIRST PUNTER EVER TO MAKE THE HOF. Said Guy: "It's gratifying to now see a punter go into the HOF. Whether it was me or somebody else, they needed a representation at that position."
Claude Humphrey, defensive end for the Falcons (1968-78) and the Eagles (1978-81): Like Guy, he was a senior committee nominee, and Humphrey was a six-time Pro Bowler and twice was voted to the All-Pro team. One of his most-impressive seasons came in 1980 when he recorded 14.5 sacks to help Philadelphia advance to Super Bowl XV. That must have been a nice moment for Humphrey considering that during a decade in Atlanta, the Falcons only produced three winning seasons. In his career, he recorded 122 sacks (before sacks were an official statistic).
Walter Jones, tackle for the Seahawks (1997-2008): Not only was Jones one of the best left tackles of his generation, many observers believe he's one of the best of all time (perhaps only behind Anthony Munoz and Tony Boselli). Out of anybody in this group, Jones was the biggest lock to make the HOF, and the reason why is obvious. He's an all-time great who only was credited with nine career holding penalties and allowed just 23 sacks in more than 5,700 pass plays. Mike Holmgren -- who once worked with players like Joe Montana, Jerry Rice and Brett Favre -- once called Jones the best offensive player he'd ever coached.
Andre Reed, receiver for the Bills (1985-99) and Redskins (2000): When I tweeted out my personal Hall of Fame picks, where I selected Tim Brown instead of Marvin Harrison and Reed, I was bashed by Bills fans for not taking a receiver in Reed whose statistics badly trailed that of Harrison and Brown but who probably should have been selected many years ago. At this point, I thought Reed's chances were over, because all the receivers coming after him will continue to pass him with their statistics. But voters obviously liked his ability to record yards after the catch (he really was a master at gaining extra yards). And his consistency. Every season but two from 1998-2007, he gained at least 850 receiving yards, and though he had a Hall of Fame quarterback in Jim Kelly tossing him passes, Reed now has gone as far as anybody from Kutztown State could have expected. Said Reed: Yes I waited. But my dad always told me patience is a virtue and good things come to those that wait."
Michael Strahan, defensive end for the Giants (1993-2007): You could have made the case that Strahan should have gone in on the first ballot in 2013 -- maybe that would have shut up Warren Sapp -- but Strahan seemed like one of the locks during this year's vote. He holds the record for 22.5 sacks in a single season, and his 141.5 career takedowns ranks fifth all time. What might have kept him out last year was that Bill Parcells was elected, and the voters didn't want two former NFLers so closely connected with the Giants to make it on the same ballot. Also, voters apparently didn't want two players from the defensive line (the other was Sapp) to go in at the same time. None of that obviously was a problem this year.
Aeneas Williams, cornerback for the Cardinals (1991-2000) and Rams (2001-04): Lauded for his consistency -- he only missed one game in his first 10 years in the league -- and his play-making ability (he recorded at least five interceptions five different times and led the league with nine in 1994), Williams finally makes the HOF after playing as one of the best defensive backs in the league in the 1990s. He's tied for fourth all time with nine career interception returns, and according to the Pro Football Focus metrics, he had the highest approximate value of anybody in the league in the 2001 season. It was only a matter of time before Williams was going to be enshrined.
Follow Josh Katzowitz on Google+
High praise from one of the most athletically gifted quarterbacks ever to step on a football...

Nobody will mistake Joe Looney for his star teammates

Osweiler is being benched in favor of DeShone Kizer
Madden season is almost here again. Here's everything you need to know.

Rob Gronkowski, in an attempt to stay healthy, is turning over a new leaf in 2017

Cyrus Mehri says players have gone backward under Smith's leadership