Reflecting on Curtis Martin, Chris Doleman and the 2012 NFL Hall of Fame class
As the NFL*s 2012 Hall of Fame class prepares for enshrinement, Pat Kirwan shares his memories of each of the inductees.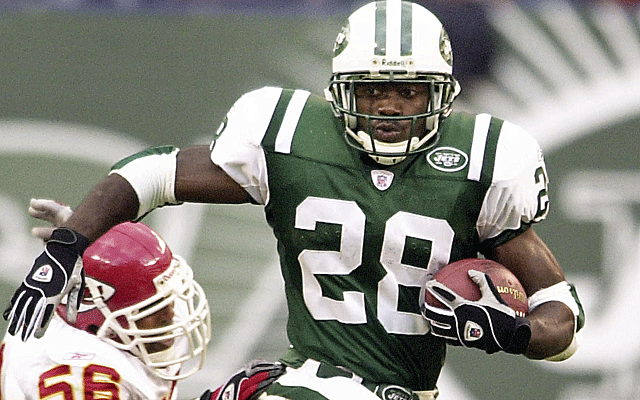 Though he eventually wound up with the Jets, Curtis Martin was drafted by the Patriots.
(Getty Images)
It is always a privilege for me to cover the NFL Hall of Fame induction ceremony from Canton, Ohio. If you've never been to the Pro Football Hall of Fame put it on your list of football things to do, and try to be here to witness the new members entering the Hall. I have covered the induction for nine straight years, and not a year goes by that at least one inductee doesn't bring a tear or two to my eyes as he tells his life journey to get to the top of the pro
football world.

Years ago the induction ceremony took place on the front steps of the HOF and the preseason game followed the end of the induction. Now the stadium is full on Saturday for the induction and many fans are there to show their respect to their favorite players. The game follows on Sunday night and it gives the members of the HOF another day in Canton to mingle with the fans and tell the stories of their careers to the fans.

As for this year's inductees, I was in the front office of the Jets for five of the new members and have some vivid memories of their careers as well as direct contact with a few of them. None of these men won a Super Bowl, only three were first-round picks, and it just goes to show you Hall of Famers can come from anywhere if their heart is big enough and they have no quit in their game.

Before I get to the five younger men, let me talk about what cornerback Jack Butler did to get into the HOF. Jack played in an era of 12-game seasons when quarterbacks threw the ball close to half the amount of time present-day QBs throw the ball. For example, in 1959, two quarterbacks in the NFL averaged over 200 yards a game (Unitas and VanBrocklin). Last year, 25 quarterbacks averaged over 200 yards passing a game. Butler was on the field for about 225 pass plays a season.
Today most cornerbacks see about 500 pass plays a season. Considering the fact Jack Butler had 52 interceptions, which is close to 1 for every 38 pass plays he was on the field, means a modern corner would have to intercept 11 passes a year for nine years. Steeler president, Art Rooney, told me if he didn't have a knee injury that ended his career he could have intercepted a significantly higher number.

Dermontti Dawson told me he picked his high school coach, Steve Parker to present him because after he quit football as a freshman, Parker convinced him to give it another try. My personal memory of Dawson was snapping the ball against us and pulling like a guard and crushing our defensive end to spring the Steeler running back. When I asked Dermontti if he remembered the play he said in his humble voice, "I did that a lot, not sure I remember your game."

Cortez Kennedy was a guy we at the Jets had long discussions about in the 1990 draft. He was drafted third in the first round, we went a spot above that and took running back Blair Thomas. The rest is history now. We were moving from a 3-4 defense to a penetrating 4-3 and he would have been perfect as our penetrating three technique. In 1992 he had 14 sacks and that might have changed the history of the Jets.

Curtis Martin was a player we faced at the Jets when he came into the league as a Patriot. Of course he went on to be a great New York Jet, but it was in his rookie season, as a third-round pick, that he drove home the idea that we should have just taken him. In two games as a rookie against us he touched the ball 68 times for 342 yards and four touchdowns. He had a medical history coming out of college which dropped him to the third round but 3,518 carries later he's in the HOF.

Chris Doleman was a rare athlete and often his 150.5 sacks is the center of attention. Beyond the sacks he also forced 44 fumbles, recovered 24 fumbles and had eight interceptions. When I joined Pete Carroll with the Jets in 1990, Pete was coming from Minnesota. We talked about finding a Chris Doleman type player all the time so I went back and looked at all of Doleman's 1989 games. In 1989 Doleman had 21 sacks, 68 tackles and five fumble recoveries. I told Carroll it might take a few years to find a guy like Doleman.

When it comes to Willie Roaf I defer to my good friend Bill Kuharich, who was the Saints' GM when they drafted Roaf. Bill would simply say he was the best left tackle to ever play the game. They never helped him with a tight end or a chip block by a back. Of course when Kuharich went to the Kansas City Chiefs he was able to trade for Willie for a third-round pick. Roaf started 58 regular season games as a Chief.
CBS All Access allows viewers to stream every NFL on CBS game in their local market

CBS All Access allows viewers to stream every NFL on CBS game in their local market

Two NFC East divisional foes face off this weekend in a big battle for both teams
Owners and CEOs from several teams released statements in response to Trump's remarks in A...

Nick Kostos won big on Monday nights last season and gives his best 3-team NFL parlay for Week...

CBS All Access allows viewers to stream every NFL on CBS game in their local market