Reggie Bush: Lions fans have every right to be upset
Reggie Bush writes a weekly blog for the Lions and this week, Bush wrote that Detroit's fans 'have every right to be upset' with the team.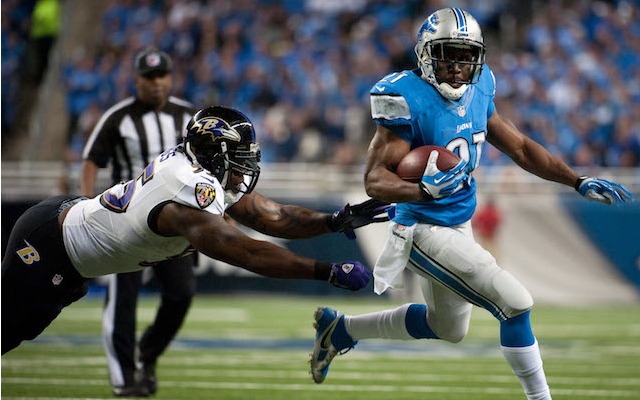 If you're a Detroit Lions fan, Reggie Bush feels your pain. In his weekly blog on the team's official website, Bush wrote on Friday that Lions fans 'have every right to be upset.' On Monday, the Lions became the first team since 2000 to score at least two touchdowns in a game and lose to a team that didn't score any. 
The Ravens used six field goals from <player idref=er to beat the Lions 18-16. Thanks to the loss, Detroit no longer controls its fate in the NFC North. If the Lions want to make the playoffs, they have to win out and get some help. 
The Lions have had several close losses this season. Including Monday's game against Baltimore, Detroit has lost a total of four games by four or less points. Bush said earlier this week that a lack of discipline on the team might be the source of Detroit's problems. 
"It could be from penalties or it could be from turnovers or it could be from how we finished the games in fourth quarters," Bush said, via ESPN.com. "It's not one specific play or moment in a game. It's the total game. It's how we play."
Bush was quick to note that the lack of discipline has nothing to do with anyone on the coaching staff. 
"It's not a coaches' thing. It's a players' thing," Bush said. "We can do a better job all across the board. As far as an offense standpoint, turn the ball over and that's the discipline issue, and that's something we have to correct, because obviously, as you see, it'll lose you games."
The Lions have lost four of their past five games and in those four losses Detroit has a turnover ratio of negative-13. The Lions have turned the ball over 14 times and only forced one turnover. 
Even if the Lions get things turned around this week against the Giants, it might not matter. Detroit will be eliminated from playoff contention if both the Bears (at Philadelphia) and Packers (vs. Pittsburgh) win on Sunday. 
Welcome to the NFL's version of a dress rehearsal

It sure sounds like the players are planning for a work stoppage when the latest CBA expir...

One of the league's best players is still looking for a new long-term contract
'It's completely different,' Wentz says about entering his second season with the Eagles

Tavon Austin, Matt Kalil and Joe Flacco headline our list of the NFL's most player-friendly...

Richardson has played for four NFL teams, and hasn't appeared in an NFL game since 2014