Reggie Bush says he'll discipline his daughter 'harshly'
Reggie Bush revealed in an interview that he would consider using a switch to discipline his daughter.
• 1 min read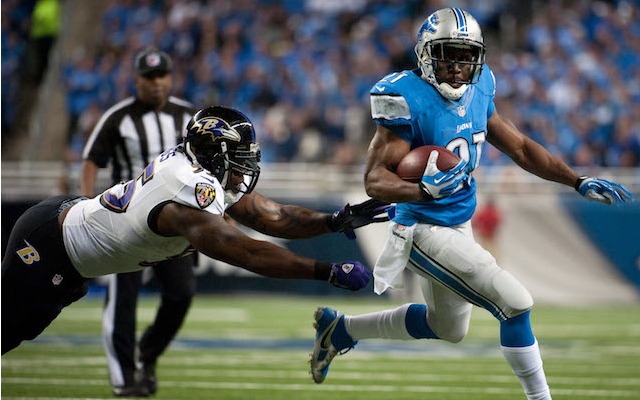 With the news of Adrian Peterson allegedly punishing his child/children rather harshly and the fallout being his  indictment for "reckless or negligent injury to a child," Peterson proclaimed he is definitely not a child abuser but was rather disciplining his child the way he'd been punished as a kid.
He also said he had "learned a lot and have had to re-evaluate how I discipline my son going forward."
But what has Lions running back Reggie Bush learned from the Peterson incident and the Vikings star's subsequent deactivation last Sunday? Not much. 
"I have a 1-year-old daughter, and I discipline her," Bush said told WFAN's "Boomer & Carton" show via CBS New York. "I definitely will try to -- will obviously not leave bruises or anything like that on her. But I definitely will discipline her harshly depending on what the situation is."
Bush was asked if he would use a switch (small tree branch) on his child as Peterson has admitted using.
Said Bush: "I would possibly consider it, depending on what she did."
Later, Bush rethought that remark.
"No, I didn't say a branch or a stick," he said. "I said spanking. Spanking is different than a branch or a stick."
That's true. And if Peterson -- who has been accused of injuring another one of his children while disciplining him -- had simply spanked his child, this likely wouldn't be a story.
Later, Bush tweeted out the following.
Let's get one thing straight people, I believe in disciplining a child period! I believe in spanking a child (IF NEEDED) NOT beating them!

— Reggie Bush (@ReggieBush) September 16, 2014
But clearly, no matter how Peterson or Bush were disciplined while growing up -- for the record, Bush said he was whooped growing up and "I know a lot of my friends and a lot of the guys I played with, they were punished the same way, too" -- that doesn't mean society or the legal system believes it's right in this day and age.
Here are the Week 7 grades for every team that played on Sunday

It was the Falcons' first score against the Patriots in over 90 minutes of game time

Hooker, the 15th pick in the draft, was in the middle of a stellar rookie year
Plus Jordy Nelson's lonely pre-game, Jamal Adams' Milly Rock, Le'Veon Bell's stiff arm and...

Justin Timberlake is headed back to perform at the Super Bowl for the first time in 14 yea...