Remember When: Cowboys win each season opener from 1965-81
From 1965-1981, the Cowboys never lost a regular-season opener.
• 1 min read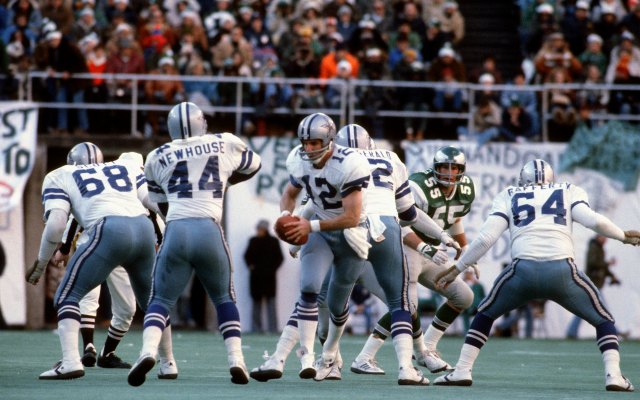 The Patriots enter their Week 1 matchup at the Dolphins having won 10 straight season openers. Excluding the Bills, who New England beat by a combined five points in three contests during that time span, the Patriots have won by an average of 9.8 points in those contests.
(The last time the Patriots lost a Week 1 game was when Buffalo destroyed them 31-0 in 2003. Fun fact: Quarterback Drew Bledsoe and running back Travis Henry dominated that game for the Bills. Fun fact, No. 2: The Patriots ended up going 14-2 that season, beating the Bills 31-0 in the final game.)
So, the Patriots' streak is pretty good, right? Well, what if I told you that they're only 55.6 percent of the way to establishing an NFL record for consecutive wins in Week 1? That's because the Cowboys won 17 straight openers from 1965-81.
After a fruitless five seasons in the league for Dallas when it combined for a record of 18-46-4 in the first years of its existence, the Week 1s for the next decade and a half were always won by Dallas. It started here ...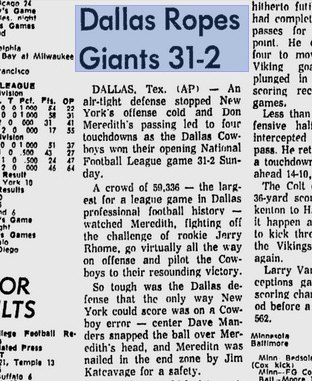 ... And continued on for nearly two decades.
See it here:
1965 -- Cowboys 31, Giants 2
1966 -- Cowboys 52, Giants 7
1967 -- Cowboys 21, Browns 14
1968 -- Cowboys 59, Vikings 13
1969 -- Cowboys 24, Cardinals 3
1970 -- Cowboys 17, Eagles 7
1971 -- Cowboys 49, Bills 37
1972 -- Cowboys 28, Eagles 6
1973 -- Cowboys 20, Bears 17
1974 -- Cowboys 24, Falcons 0
1975 -- Cowboys 18, Rams 7
1976 -- Cowboys 27, Eagles 7
1977 -- Cowboys 16, Vikings 10
1978 -- Cowboys 30, Colts 0
1979 -- Cowboys 22, Cardinals 21
1980 -- Cowboys 17, Redskins 3
1981 -- Cowboys 26, Redskins 10
In case you need a calculator, the Cowboys won those games by an average of 18.6 points. Not surprisingly, Dallas had the best run in its franchise history during that time, via Pro Football Reference.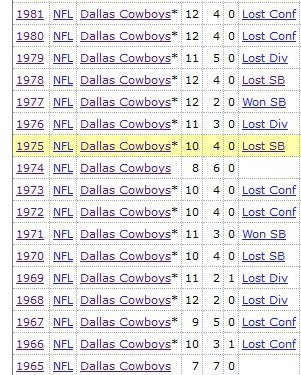 That's double-digit victories in 14 of 17 seasons, 15 playoff runs in those 17 years and four Super Bowl appearances (with two wins).
But in 1982, an old rival showed up at Texas Stadium to open the season. And this happened.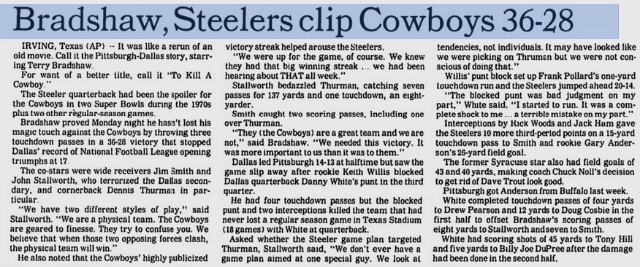 All in all, it was an impressive run of Week 1s by the Cowboys. Considering nobody has come close to matching that record (the second-best season opening streak was the 11-year stretch for the Dolphins from 1992-2002), you can't like the Patriots' chances of matching Dallas. Especially the next time they have to play Buffalo.
Dak Prescott was efficient and explosive and DeMarcus Lawrence was dominant in the Cowboys...

The Dallas receiver threw up the X after his score, and he certainly deserved it

The singer sent a message with a verse of scripture on Monday night
The Cowboys owner joined in a demonstration with the Cowboys players before Monday night's...

Look for Ezekiel Elliott and Dak Prescott to rebound after a rough outing in Denver

Quarterback Russell Wilson was one of the chief proponents for the Seahawks staying in the...