Remember When: Joe Theismann and Redskins started 0-5 in '81
If you're a Redskins fan fretting about Robert Griffin III and the team's 0-3 start, don't fret. 1981 started off much worse.
• 3 min read
One of the biggest surprises of the young NFL season is that the Redskins, the NFC East champions from last year, are 0-3 and that Robert Griffin III's knee doesn't appear to be healthy. But Griffin probably isn't the main reason Washington is winless so far (for that, you can thank the team's 32nd-ranked defense).
In fact, Griffin has thrown for 975 yards. Which would put him on pace for 5,200 passing yards this season (last year, Griffin threw for 3,200 yards in 15 regular-season games), and that would rank third all time.
So, Griffin basically is throwing for an unprecedented number of yards for a team that's 0-3, right?
Well, not exactly.
The only player in the Super Bowl era to have more passing yards than RGIII's 975 in an 0-3 start is Joe Theismann (987, 1981 Redskins)

— ESPN Stats & Info (@ESPNStatsInfo) September 23, 2013
After seeing that, I decided that we should briefly take a look at that season in Washington.
For the Redskins, they were a team of transition. After the 1980 season, Jack Pardee had been fired by Redskins owner Jack Kent Cooke, and the team gave its head coaching job to an offensive coordinator named Joe Gibbs. Gibbs knew about the passing attack that coach Don Coryell was using in San Diego -- probably because Gibbs had been Coryell's offensive coordinator the previous two years -- and he implemented a facsimile of that with Theismann, by then in his eighth year at quarterback.
And then the team lost its first five games.
But finally on Oct. 11, this happened vs. the Bears. (And even better, you could get a really good deal on some surf and turf from Lewiston Elks in Lewiston, Idaho).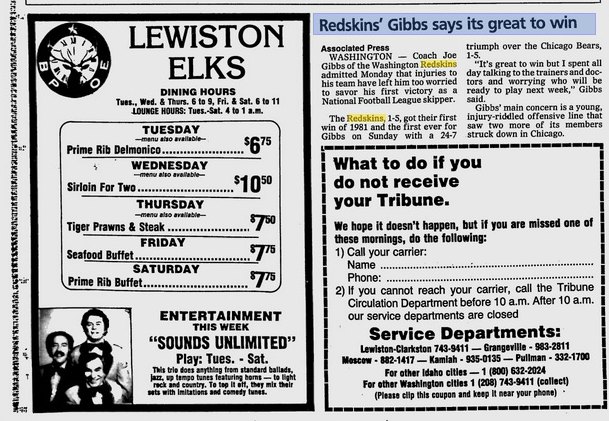 "It feels like a big weight has been lifted," Gibbs said after the game, via the Washington Post.
I bet it did. Cooke had called Gibbs into his office earlier that week, and Gibbs feared he was about to lose his job. Instead, Cooke just wanted to reassure Gibbs that his job was safe.
"We kept hoping and praying that we would stop making turnovers and killing ourselves," Gibbs said. That's what finally happened. I knew we'd win one eventually. After putting in all the long hours, well, no one goes through harder times when you are losing. You are supposed to win, this is a winner's game. I really feel good for our players. They worked hard every week, and now they know it was worth it."
Gibbs wasn't the only one concerned with the five-game losing streak, as reported in the Redskins Encyclopedia book: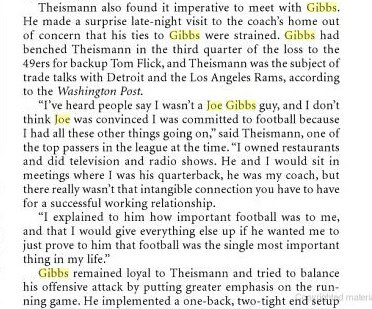 But after that first win, Theismann and the Redskins exploded, as you can see here:
Theismann would finish the year in style -- at the age of 32, it was the best season of his career up until that point -- and the Redskins rode that momentum and won seven of the final nine games of the season.
So, all is not lost for the 2013 version of the Redskins and for Griffin. Because you know what happened in 1982 for Washington?
The Redskins won the Super Bowl.
Follow Josh Katzowitz on Google+
Danielle Hunter, the most underrated player of 2017, is just 22 and coming off a huge seas...

The NASCAR driver and Redskins fan is excited to see what Terrelle Pryor can do in Washing...

Cowboys rookie Jourdan Lewis got some good news on Tuesday.
The Ravens might need some help at running back

The Jaguars are making people rich

It looks like Michael Vick is hoping to make the transition from player to coach