Remember When: John F. Kennedy, Vince Lombardi were friends
When Vince Lombardi needed help before the 1961 NFL title game, he called in a favor from his buddy, John F. Kennedy.
• 2 min read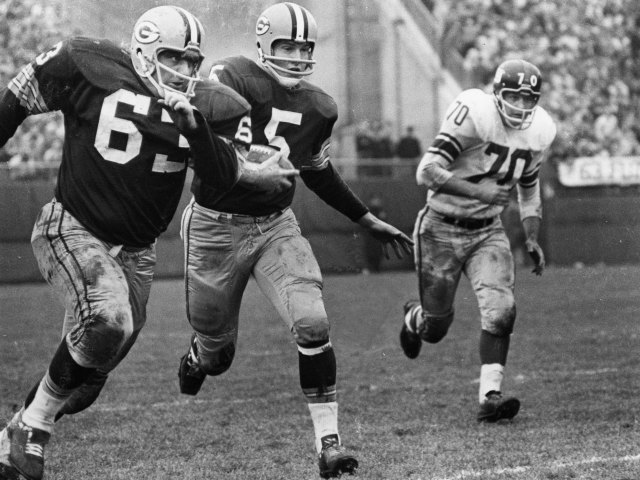 In October 1961, a number of NFL players were called to active duty in the National Guard because the Soviet Union had demanded Western forces leave West Berlin in what became known as the Berlin Crisis. This was the Cold War, and American forces needed to be on the ready. That included professional football players.
The Milwaukee Journal Sentinel writes that more than a dozen NFL players were called to serve their country, and that involved three of the Packers top contributors -- eventual Hall of Fame running back Paul Hornung, eventual Hall of Fame linebacker Ray Nitschke and two-time Pro Bowl receiver Boyd Dowler.
Though the latter two were granted weekend leaves and didn't miss a game, the calls to duty didn't make life easy for Green Bay, which was rumbling along to an 11-3 record but which needed extra help before attempting to win its first NFL title in 17 years. Hornung had told Lombardi he was keeping in shape while he was deployed, though he later admitted that had been a bit of a fib, and Lombardi constantly mailed him gameplans.
Vince Lombardi then made a special phone call to one of his good friends.
As the story goes, Lombardi met John F. Kennedy whe he was campaigning in Wisconsin for the 1960 presidential election. Lombardi endorsed Kennedy, and Kennedy gave Lombardi his personal phone number. That's who Lombardi dialed up when the Packers were set to play the Giants for the 1961 NFL title to see if the president could pull some strings to make sure Hornung would be on leave and available for Green Bay.
Kennedy, the commander-in-chief, made it happen.
"Paul Hornung wasn't going to win the war on Sunday, but football fans of this country deserve the two best teams on the field that day."
That reportedly is what Kennedy told Lombardi, and Hornung made the favor pay off for his team, rushing 20 times for 89 yards and a touchdown while kicking three field goals in Green Bay's 37-0 domination of the Giants.
Soon after, one of the major factors of Green Bay's victory sent the following telegram to one of the major benefactors on that day.
Via Packerville USA: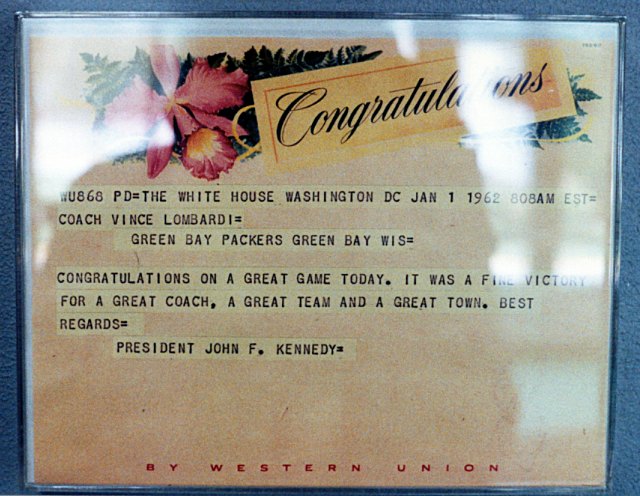 There's been plenty written about then-commissioner Pete Rozelle's decision to play NFL games just two days after Kennedy was assassinated 50 years ago today.
As the Racine Journal Times remembers, here's how Lombardi responded:
Vince Lombardi toed the company line the afternoon of Nov. 24, 1963 in the cramped media quarters of Milwaukee County Stadium. Just after Lombardi's Green Bay Packers defeated the San Francisco 49ers 28-10 to keep their hopes alive for a third straight NFL championship, he was asked by a member of the media about playing 48 hours after President John F. Kennedy was assassinated in Dallas.

"I saw no reason not to play the game," a testy Lombardi responded.

But that's not the sentiment that was in the legendary coach's heart.
How could it have been? Lombardi not only lost his president that day. He lost a friend.
Follow Josh Katzowitz on Google+
Moss continues to call out his former Redskins teammate, who claims he's not telling the t...

R.J. White has nailed his last 5 Redskins picks and has a strong play for 'Sunday Night Fo...

The Texans desperately miss their tackle, but they're not going to break precedent to bring...
Receivers like Pryor don't want to be hit low but defenders are running out of places to hit...

The Browns' Pro Bowl left tackle has mastered the art of losing gracefully

An example of how not to use social media