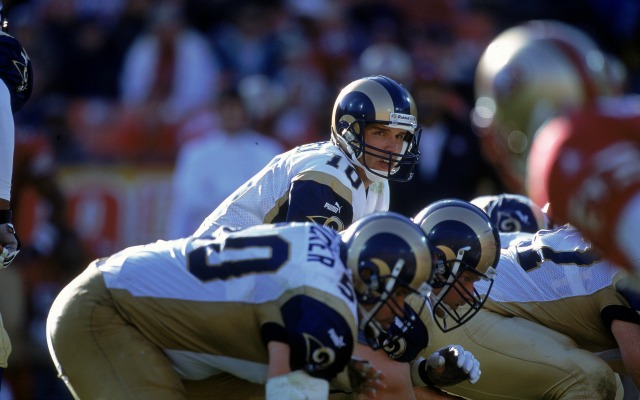 It was 1999, and Trent Green was poised to take over the Rams' starting quarterback position. It had been a long wait for the 1993 eighth-round draft pick, who had spent the first five seasons of his career holding a clipboard with the Chargers and Redskins. But in 1998, he finally got his chance, and he performed well, throwing for 3,441 yards, 23 touchdowns and 11 interceptions in 14 starts for Washington.
The previous season had been a disaster in St. Louis with quarterback Tony Banks leading the team to a 4-12 record and a No. 27 league ranking in yards gained. Rams coach Dick Vermeil, whose seat was beginning to heat up as the franchise hadn't been to the playoffs in nine years and three coaches ago, saw what Green had accomplished for the Redskins and signed him as a free agent.
Vermeil gave him a four-year, $17.5 million contract, in fact, and provided Green with a running back in Marshall Faulk who had just been acquired from the Colts -- and a receiver in Torry Holt who had just been selected with the No. 6 overall pick in the draft.
But Green's season -- and probably that of the Rams -- was blown up in the third preseason game. It was near the end of the first half when disaster struck.
As the Kansas City Star remembered last month:
At the line of scrimmage, Green saw Chargers safety Rodney Harrison showing blitz. But Harrison was accounted for by Faulk in the called protection scheme.

"So I didn't even bat an eye," Green said.

Faulk was about as multifaceted a football player as there ever was, and he was a good blocker. But he had held out for about the first two weeks of camp that year, Green reminded, and he wasn't quite himself yet.

"He knew he was supposed to get him, but if you look at the block, he's not real comfortable with where he was at that point," he said. "He kind of made like a half-block, a 'not-really' block."
After Faulk missed him, Harrison blasted into the back of Green's planted leg, shredding the ligaments in his knee. Afterward, Harrison expressed remorse about the injury, and it appeared as if the optimism surrounding St. Louis' season had evaporated. "We're cursed," a Rams official told the St. Louis Dispatch a few minutes later. "We're [expletive] cursed."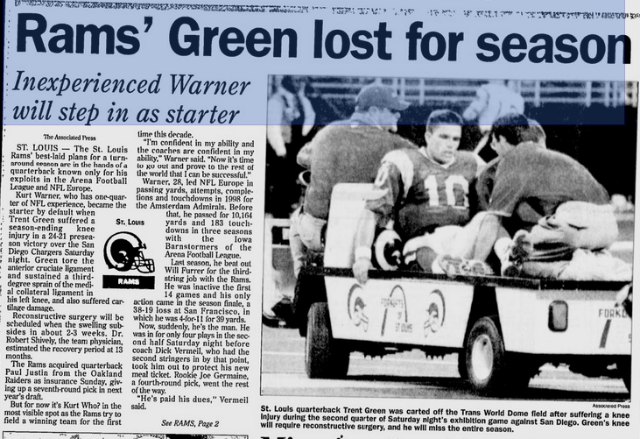 But there was a man on the roster who had spent time in NFL Europe, a man who had played in the Arena Football League, a man who had stocked groceries in Iowa in order to make extra money. His name, of course, is Kurt Warner, and this season -- 15 years after he took over for Green and led the Rams to a shocking Super Bowl victory -- there's a good chance he'll be inducted into the Hall of Fame.
Taking over for Green, the little-used and little-known Warner help give rise to the Greatest Show on Turf. This is what he did. (Note: the bolded numbers represent categories in which he led the entire league.)
| Year | Age | G | GS | QBrec | Cmp | Att | Cmp% | Yds | TD | Int | Y/A | Rate |
| --- | --- | --- | --- | --- | --- | --- | --- | --- | --- | --- | --- | --- |
| 1999*+ | 28 | 16 | 16 | 12-3-0 | 325 | 499 | 65.1 | 4353 | 41 | 13 | 8.7 | 109.2 |
And, of course, he did this.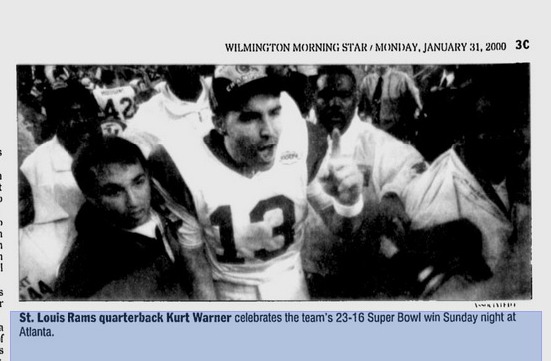 How unlikely was the tale of the grocery store clerk turned third-string quarterback turned Super Bowl hero? As Warner explained before the 2000 season, with Green now serving as Warner's backup, "Nobody expected me to do it."
In the same vein, does anybody expect this year's Rams backup -- whether it's Shaun Hill or Austin Davis or somebody else we don't know about -- to replace the injured Sam Bradford and lead St. Louis back to postseason glory? Most likely not. But how many would have believed in Warner as Green was carted off the field in that preseason game 15 years ago?
"How many quarterbacks in the history of the NFL (became) the most valuable player in the league with 16 game snaps in his career? Tell me. Nobody," Vermeil told the KC Star. "It has never been done before, and it will never be done again."