Replacing suspended Miller? Broncos need creative, deceptive blitzes
The Broncos had a strong pass rush, at least until Elvis Dumervil departed and Von Miller was suspended. Here's how they will try to fill the void.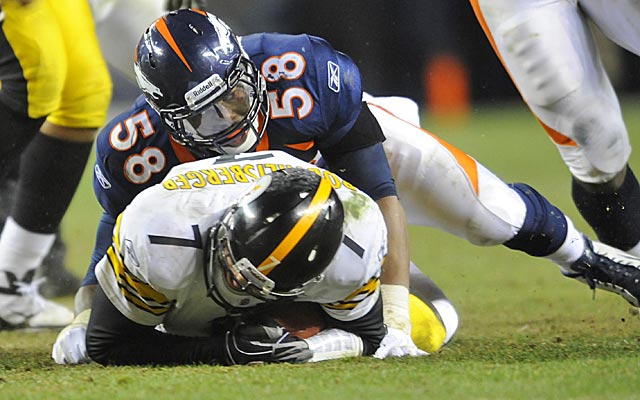 Who will the Denver Broncos turn to replace linebacker Von Miller, who was suspended six games by the NFL on Monday for violating the league's drug policy? The answer is a blonde-haired, barrel-chested, tough guy who probably hasn't backed down from a scrap in his life.
His name is Jack Del Rio.
You can't just replace Miller's pass-rush ability with one player, which is why Del Rio, the Broncos defensive coordinator, is the key to how well Denver handles things with Miller out.
Miller had 18.5 sacks last season, making him one of the best edge rushers in the game. So you can't just pop a player in and replace him. He's way too valuable.
Miller's pass-rush skills helped open up things for other Broncos players last season as well. Protections were slid his way. Doubles helped others get singled to get pressure.
That type of speed off the edge is invaluable. And, oh by the way, he's a good run player who almost never missed a tackle.
That's where Del Rio is key here. No one player -- or maybe even two -- can fill that void. Scheme is what's important now. It will be up to Del Rio to create ways to get after the quarterback without Miller. When you add in that the Broncos lost fellow outside pass rusher Elvis Dumervil to the Ravens after botching his contract negotiations, Del Rio is facing a huge challenge.
I know Del Rio well, and I imagine he's probably excited about it. This could be his way to get his name back into the head-coaching mix, which he certainly would love to do again after his stint in Jacksonville.
The Broncos will have to get creative. They've been using former middle linebacker Nate Irving some in his spot on early downs with Shaun Phillips, signed as a free agent, coming in on passing downs. When I was in Denver in June, the Broncos, almost to a man, thought they would be fine without Dumervil.
This, though, adds another layer to that loss and compounds it.
Del Rio played mostly a four-man front -- both even and odd looks -- and that was with Dumervil having his hand on the ground and Miller mostly up, although he could also put his hand on the ground. The Broncos also played a lot of man coverage, and Del Rio could be creative with his blitz packages. It was easier to do with Miller.
Miller has played 31 of 32 games since coming into the league in 2011. His only missed start came in December of 2011 against the Minnesota Vikings. The Broncos defense had a tough day against the Vikings that day in a 35-32 Denver victory.
Here's how bad it was: Christian Ponder threw for 381 yards and three scores against the Broncos that day.
Del Rio wasn't the coordinator on that team, but without Miller the Broncos had to be creative. Some of it worked, and some of it didn't.
Here's a look at a blitz that worked. The Broncos had nine guys up near the line and had man coverage outside with a single safety. At the snap, two inside players, one a safety (Quinton Carter) and one a linebacker (D.J. Williams), dropped out into coverage. That's because the Broncos had a blitz from the left side of Ponder. They brought safety Brian Dawkins, who was lined up on the line. When he was picked up, it opened up a lane for Chris Harris on a corner blitz. Harris nailed Ponder to force an errant throw and a punt.
Later in the game, one of the creative blitzes didn't work, and led to a 52-yard touchdown pass to Percy Harvin (black circle). The Broncos had a double blitz (yellow lines) from Ponder's right with Harvin in man coverage on the left side. It was a quick throw, so Ponder could get the ball out before the blitz could get there. When Harvin pushed off Harris, and knocked him to the ground, Ponder hit him for a completion. A bad angle by safety David Bruton (red X) and Harvin's speed led to the score.
Del Rio used a lot of different looks in 2012, even with Miller, so I expect a lot more exotic stuff now. Here's a look at one play against Baltimore last season in the regular-season game where Del Rio helped scheme open a pass rush. On a third-and-8, the Broncos had only two down linemen on the play (yellow Xs) with four other potential rushers up near the line. At the snap, one of those rushers dropped out, but the other three came up the field. The two inside rusher did an X cross and that enabled Robert Ayers to go unblocked and get a shot on Flacco as he threw to force a high incomplete pass.
The Broncos' two-man looks help create confusion because teams have no idea who is coming. It makes it tough to identify the blitzers and where they are coming from and when. There were some plays last season where the Broncos didn't have any linemen with hands down.
I imagine Del Rio will revert to more of this, although if star corner Champ Bailey is out along with Miller that could make it tougher. But you can't just pencil in a player and think you can replace Miller.
It will have to be scheme. It will have to be improvement by young players like (the now hobbled) Derek Wolfe and it will have to be a lot of nights at the office for Jack Del Rio.
Keep up with the latest moves in free agency as teams try to build a Super Bowl contender

The phrases 'going to the ground' and 'slight movement of the ball' will be eliminated

The proposal would permit ejections after instant replay reviews
The league is the brainchild of the man who directed the '30 for 30' documentary about the...

The Jaguars also let star receiver Allen Robinson walk in free agency this offseason

Grant was set to make $29 million over four years before he failed his physical in Baltimo...