Report: 49ers LB Aldon Smith expected to play vs. Panthers
San Francisco 49ers linebacker Aldon Smith is expected to see his first game action since he went to rehab for his substance abuse.
• 1 min read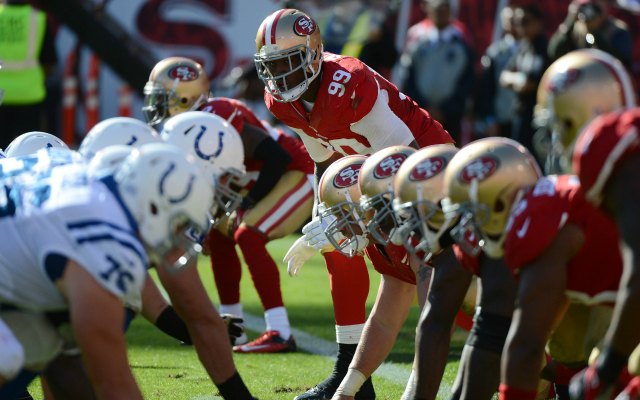 After staying on the Non Football Injury list for a month as he sought treatment for substance abuse, missing the past five games, the 49ers placed linebacker Aldon Smith on the active roster last week.
Now, he reportedly will play this week vs. the Panthers, according to NFL.com. He's expected to be limited to pass-rushing situations, though, and it's unclear what percentage of snaps he'll actually play.
Still, Smith seems excited to be back.
"Of course, I didn't want to be away from the sport I love," Smith said this week, via CSN Bay Area. "But it was good for me to get away and get my mind together and work to get into the positive spot I need to be at."
While he was at rehab, Smith said he watched some games and worked out a few times a week to keep himself in shape for his return. Though defensive coordinator Vic Fangio said he looked rusty at practice this week, coach Jim Harbaugh was pleased with what he saw.
From the team transcript on Friday:
What kind of week did LB Aldon Smith have?
Harbaugh: "Solid. Very solid. Very good week."
Defensive coordinator Vic Fangio, he said yesterday that he saw some rust early in the week. Did you see, did you witness the process of him starting to knock that rust off as the week progressed?
Harbaugh: "I, to my eye, he looked like he had a very good week, moving around well, knowing his assignments."
Follow Josh Katzowitz on Google+
The Patriots coach didn't seem that impressed with his quarterback's heroics

The Patriots coach doesn't have time to waste on the Lamar Hunt Trophy

The Eagles defense definitely came to play in the NFC Championship game
Not even 10 stitches could slow down Tom Brady

Here's a look at the NFL's entire postseason schedule for 2018

Follow along live as the Vikings and Eagles battle for a spot in the 2018 Super Bowl