Report: 49ers, Patriots have inquired about DeSean Jackson
While the Eagles reportedly aren't actively shopping DeSean Jackson, they'll answer the phone if other teams want to talk. According to a report, the 49ers and Patriots have made inquiries.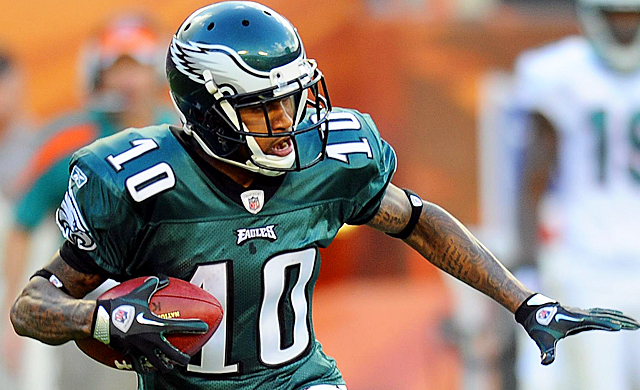 More NFL offseason: Mock Drafts | Prospect Rankings | Pro Days | Top free agents
Last season, DeSean Jackson put up huge numbers -- 82 receptions for 1,332 yards and nine touchdowns -- but the former second-round pick continues to find himself at the center of rumors that he could be traded or released.
It seems peculiar given his productivity, but speculation is that his personality doesn't mesh with coach Chip Kelly, he doesn't get along with his receivers coach, and that he might want a new contract (even though he's just two years into a five-year, $51 million deal).
And while the Eagles reportedly aren't actively shopping Jackson, they'll answer the phone if other teams want to talk. According to CSNPhilly.com's Derrick Gunn, the 49ers and Patriots have made inquiries. Gunn adds that Philly is looking for "at least a third-round pick and potentially more."
San Francisco needs depth behind Michael Crabtree and Anquan Boldin, but New England, with Julian Edelman and Danny Amendola, appears all stocked up on speedy, undersized wideouts
Meanwhile, CSNPhilly.com's Geoff Mosher pointed out earlier this month that Jackson may have played his last game for the Eagles.
"For a variety of reasons, mostly financial, Jackson's days with the Eagles are likely numbered," Mosher wrote on March 5. "His salary this year jumps to more than $10 million and remains over $9 million annually through 2016. His lithe body frame doesn't really fit with coach Chip Kelly's preference for big bullies. And despite his world-class speed, Jackson isn't an irreplaceable piece of Kelly's spread offense, which also features NFL leading rusher LeSean McCoy and rising tight end Zach Ertz."
Over the weekend, Kelly was asked about Jackson, and in a typical Kelly response, he offered no clue into what he was really thinking.
"[Jackson] is a player at receiver before Maclin behind Cooper," he said. "Or is it Cooper before Maclin? Or Maclin before Cooper? So I'll check what you write then I'll tell you what we feel about him."
In terms of production, Jackson ranked fifth in value-per-play last season, according to Football Outsiders' WR metric, behind only Demaryius Thomas, Boldin, Jordy Nelson and Eric Decker.
Let's call it the Blair Walsh revenge game

Jeremy Lane also stood near Bennett along with pass rushers Cliff Avril and Frank Clark

Bennett also dedicated it to 'all of the other athletes using their platform to promote ch...
The Patriots quarterback shows commitment from Day One

Cardinals' running back says he's feeling more energized

The Vikings' receiver is wearing his heart on his foot