Report: 49ers peeved that Redskins didn't cancel coach interviews
Not everybody is happy with the way the Redskins hired new coach Jay Gruden.
• 1 min read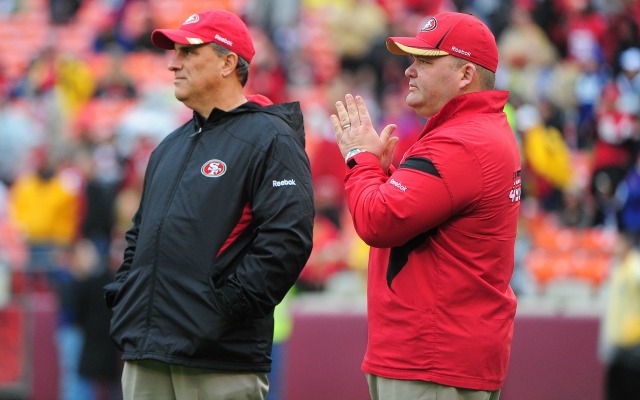 All's well and good with the Redskins, right?
They hired Jay Gruden to be their next head coach this week, and though many of us are skeptical that this was the right move, at least Robert Griffin III seems on board with the idea.
Probably because, as former Washington quarterback Doug Williams told the Washington Post, "The luckiest guy in this whole deal is Robert Griffin. Jay understands offense to its fullest, and especially the quarterback position."
But you know who's reportedly not happy about the deal? Those who prepared to interview and then were not notified when their interviews were cancelled. For instance, some in the 49ers organization.
49ers not happy Greg Roman and Vic Fangio prepared for Redskins HC interviews Thursday and Wash never cancelled before hiring Jay Gruden.

— Adam Schefter (@AdamSchefter) January 12, 2014
Roman, for those who don't know, is San Francisco's offensive coordinator and Fangio is the team's defensive coordinator. Since we assume those two spent part of their work-week studying the Redskins for their interview while preparing for Sunday's game vs. the Panthers, yes, it makes sense the 49ers would be peeved at this reported lack of grace.
On another note, never change, you glorious Redskins franchise.
UPDATE: The Redskins now say they never offered interviews to Fangio or Roman, though they did ask for permission from the 49ers to possibly interview them.
"Nothing was ever scheduled," Redskins spokesman Tony Wyllie said, via the Washington Post.
Follow Josh Katzowitz on Google+
It looks like we're going to have a quarterback competition in Jacksonville

Smith is facing up to seven years in prison if convicted

Plus everything else you need to know about Week 2 of the 2017 NFL preseason
This is why being a rookie in the NFL isn't fun

The Raiders running back went Beast Mode on reporters

Elway tried his best to emphasize how complicated the situation is