Report: 49ers shopping RB LaMichael James
The 49ers are reportedly shopping around running back LaMichael James, the team's second-round pick in 2012.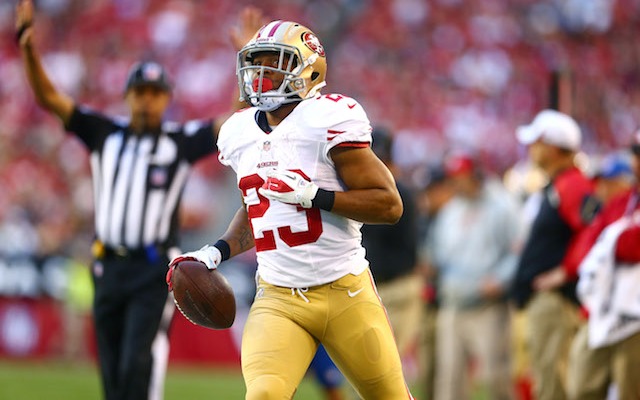 More NFL offseason: Mock Drafts | Prospect Rankings | Pro days | Top free agents
LaMichael James might not be in San Francisco much longer. The 2012 second-round pick is being shopped around by the 49ers, according to the Sacramento Bee. James led the team in both punt returns and kickoff returns in 2013. 
The problem for the 49ers though is that James doesn't necessarily want to be a returner, he wants to be featured more in the team's running attack. James has taken to Twitter several times over the past year saying as much, including a tweet in October when he said he's 'not trying to be insurance.'
A fan asked James in January if he thought he'd get more playing time in 2014, and this was his response. 
@jagbirdhanda thanks but don't count on it lol

— LaMichael James (@LaMichaelJames) January 30, 2014
James also retweeted the tweet below from his verified Twitter account on Wednesday, suggesting he's heard the news that he's being shopped around.
@LaMichaelJames @mattbarrows I was really hoping they would use ur talent instead of give it away. It's just stupid.

— Brian M (@AFNinerFan) April 17, 2014
It looks like the 49ers have figured it'd probably just be smarter to move on from their seemingly disgruntled running back. 
At the NFL combine in February, 49ers general manager Trent Baalke said there were no plans to trade James. "LaMichael is a 49er. He'll continue to be a 49er," Baalke said. 
Baalke also answered a question about James' lack of playing time, "There are certain game plans where LaMichael was meant to play a little bit bigger role than he ended up playing, but that's the game," Baalke said. "Every game you go in with a plan and sometimes that plan changes based on what you're seeing and what the other team is doing. So you've got to be flexible. It's up to LaMichael and it's up to every player. We tell every one of our players this: 'It's up to you to earn time on the field.' So it's not as much about what he hasn't been doing, it's as much about what Frank [Gore] has been doing."
Gore was the 49ers leading rusher in 2013 with 1,128 yards and nine touchdowns on 276 carries. James was given 12 carries on the year that went for a total of 59 yards. 
James was inactive for the 49ers first three games this season before finally seeing some playing time against St. Louis in Week 4. James played in a total of 10 games in 2013, and the St. Louis game was one of only five where he had a rushing attempt. 
The 24-year-old did average 10.9 yards on punt returns last season, which led the 49ers and ranked 10th in the NFL. 
Find out who will be lining up for the 2018 Super Bowl between New England and Philadelphi...

Who'll win MVP honors when the Eagles and Patriots clash? History favors a QB

The quarterback expects to be completely healthy for Super Bowl LII
The three-time Grammy winner will sing before Super Bowl LII on Feb. 4

There's no bigger stage in the world than the 50-yard line on Super Bowl Sunday

Who'd have thought paying tribute to the New York teams' biggest rivals would backfire?