Report: 49ers won't play Monday or Thursday home games in 2014
If San Francisco plays on Monday or Thursday night next season, it will be on the road. Officials want to work out the kinks at the 49ers new stadium before the team hosts any weeknight games.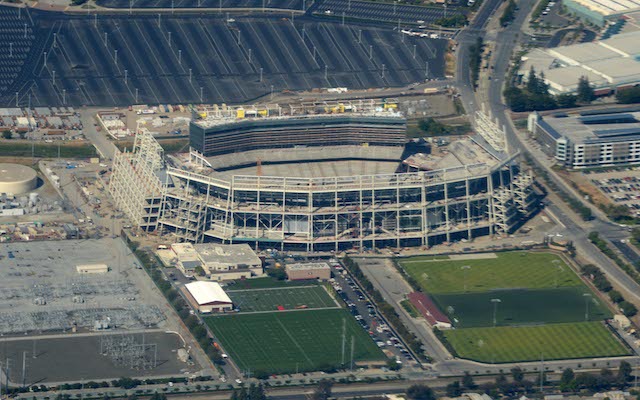 The San Francisco 49ers will be moving into a brand new $1.2 billion stadium next season, but don't look for that stadium to be hosting any Monday or Thursday night games in 2014. According to San Jose Mercury News, the 49ers won't host any weeknight games at Levi's Stadium next season.
Officials in Santa Clara, Calif., where the new stadium's located, are concerned by potential traffic issues. Monday and Thurday night games aren't actually night games on the West Coast, they're evening games that kickoff at 5:30 p.m. PT. That means kickoff is right in the middle of rush hour and officials are concerned that the surrounding area may not be able to initially handle 70,000 fans making their way to Levi's Stadium. 
According to the Associated Press, the weeknight ban in 2014 will give "operations personnel, law enforcement, local businesses, support services and parking facilities time to get accustomed to traffic flow and other challenges."
Although the 49ers aren't expected to host any Monday or Thursday games in 2014, that won't be a permanent thing. After the kinks are worked out, the 49ers should once again return to hosting weeknight games in 2015. 
The 49ers have played at least one weeknight game at home every year since 2009. The final game ever at Candlestick Park will be on a weeknight when the 49ers host the Falcons in Week 16 on Monday night football. 
Officials will probably want to get the kinks worked out a Levi's Stadium as soon as possible because there will be more than 70,000 people in the area in February 2016 when the stadium hosts Super Bowl L. 
Levi's Stadium is expected to open on time to host the 49ers first preseason game next season. The first event scheduled to be played at the stadium is an Aug. 2 soccer game between the San Jose Earthquakes and Seattle Sounders. 
It looks like we're going to have a quarterback competition in Jacksonville

Smith is facing up to seven years in prison if convicted

Plus everything else you need to know about Week 2 of the 2017 NFL preseason
This is why being a rookie in the NFL isn't fun

The Raiders running back went Beast Mode on reporters

Elway tried his best to emphasize how complicated the situation is