Report: A year after suspension, Josh Gordon applies for reinstatement
Gordon was suspended last year after failing an alcohol test while in the league's intervention program.
Josh Gordon was suspended indefinitely by the NFL on Feb. 3, 2015, after violating the league's substance abuse policy again. Gordon failed a test for alcohol during the 2014 season after he had previously agreed to alcohol testing as a condition of his reinstatement to the league following a DWI arrest in 2014.
In the wake of the suspension, Gordon wrote in an open letter at The Cauldron that he had consumed two beers on a flight to Las Vegas days after the regular season had ended. He was then informed he had to take an alcohol test, which he failed.
"It doesn't matter if I thought that the league-imposed restriction on drinking had expired at the end of the regular season; what matters is that I didn't confirm whether or not that was the case," Gordon wrote. "Now, that oversight has further jeopardized my relationship with my team and our fans, my reputation, and maybe even my career."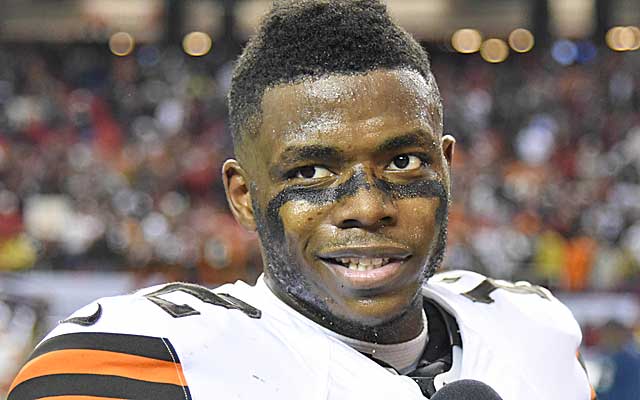 The terms of Gordon's suspension allowed him to apply for reinstatement within 60 days of the anniversary of the letter he received from the NFL notifying him that he was suspended. According to a report from ESPN, Gordon has filed that application, and the NFL has 60 days from the receipt of that application to decide his fate.
Within 45 days of the receipt of Gordon's application, he will be interviewed by NFL Medical Director Dr. J. Richard Spatafora and Medical Advisor Dr. Lawrence Brown.

The league policy states: "The Player will execute appropriate medical release forms that will enable the Commissioner's staff and NFLPA Executive Director's staff to review the Player's substance abuse history, including but not limited to attendance at counseling sessions (individual, group and family); attendance at 12-step and other self-help group meetings; periodic progress reports; and all diagnostic findings and treatment recommendations."

In an email response, Greg Aiello, NFL spokesman, wrote, "To be reinstated, a player must demonstrate sustained abstinence. In support of their applications, players generally put forward verifiable testing records and/or submit to periodic NFL testing during the banishment period."

The medical director and medical advisor will make a recommendation. Commissioner Roger Goodell will render a decision within 60 days of the receipt of Gordon's application.
If Gordon is reinstated, he will be under contract with the Cleveland Browns for the 2016 season because he did not play enough games in the 2014 season to qualify for a full year of control under his rookie contract. If the Browns elect to keep Gordon for the 2016 campaign, he would become a restricted free agent at the end of the year. The Browns could surely use the help at wide receiver, a position where Gordon has previously shown he can be one of the very best players in the league, but it's unknown at this point whether they would even be willing to have him back on their roster.
New head coach Hue Jackson briefly addressed Gordon's status at his introductory press conference, but was non-commital about his future with the team. "What I'm anxious to do is evaluate him just like we're going to evaluate every player on our roster and see if they are the right fit for the Cleveland Browns," Jackson said. "That's what we have to do with every player, whether that's Josh Gordon to whoever the last guy is on the roster."
There is a lot on the line for everyone involved in Conference Championship weekend

Jackson thinks that Winston needs to just be himself

SportsLine's No. 1 NFL expert just locked in his teasers for NFL conference championship w...
Wentz is doing everything he can to help Nick Foles lead the Eagles to the Super Bowl

Bell reportedly showed up for only the last five minutes of the team's walkthrough

Two super-sized runners and a pair of tall wideouts have the skills to shine during a week...