Report: Aaron Hernandez struggling with legal bills
Aaron Hernandez is reportedly struggling with his legal bills.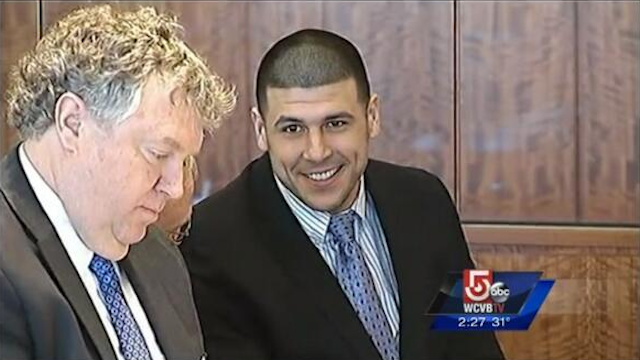 Things are not looking up for Aaron Hernandez. The former Patriots tight end has been held in prison for a lengthy amount of time now and recently pled not guilty to double murder charges.
Now he's apparently dealing with a lack of funds to pay his attorneys. Fox Sports reported Friday that Hernandez' lawyers,  Charles Rankin and James Sultan, filed documents indicating they might discontinue their representation of Hernandez.
The lawyers indicated their involvement with the latest Hernandez case was "limited to arraignment only and related proceedings."
Perhaps the biggest obstacle for Hernandez? What the newest charges represent for him in terms of holding onto money received from the Patriots.
The Pats could seek to obtain additional cap space as well as money from Hernandez; whether they're able to get it is another story, but Hernandez is clearly dealing with mounting legal bills.
"The defendant is in the process of seeking to make financial arrangements to retain counsel," the lawyers added.
Back in September, Hernandez pled not guilty to the shooting of Odin Lloyd. He pled not guilty last week to two charges of first-degree stemming from a 2012 shooting.
Why didn't McCown, the presumed starter, play Saturday? The Jets don't want you to know

The Raiders duo had a great explanation for their decision to stand next to each other

The former Buccaneers kicker did not have things start well for him in Chicago
Bears special teams showed up in a big way against Arizona

Beast Mode got loose with Oakland and looked pretty impressive in the early going

Beast Mode was one of several players to sit during the Raiders-Rams game