Report: Antonio Cromartie expects Jets to release him in offseason
The Jets' No. 1 cornerback reportedly doesn't expect to be employed by the Jets for much longer.
• 1 min read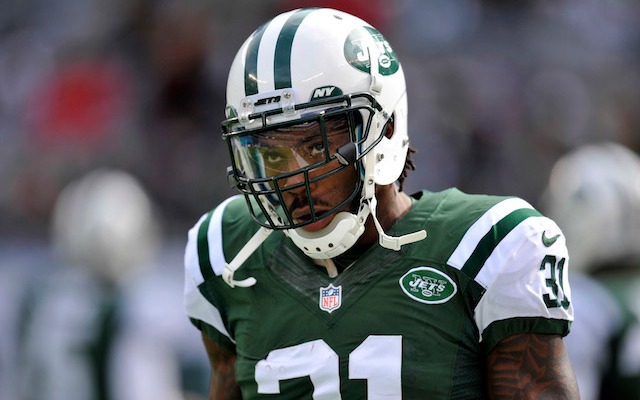 Last March, Jets cornerback Antonio Cromartie agreed to restructure his contract in order to lessen his impact on the team's 2013 salary cap. The other side of that new deal, though, was that his 2014 salary cap hit would increase.
And that in part is why Cromartie reportedly has told teammates he expects the Jets to cut him this offseason, according to ESPN New York. But Cromartie also reportedly has said he would like to return to New York after testing the free agent market.
"The Jets can't write a $5 million check for a soon-to-be-30-year-old cornerback who might need hip surgery," Rich Cimini writes. "Because it's the final year of his contract, he can't do a simple restructuring to provide cap relief, as he did last year. They should cut him, let him shop around, and decide whether they want to match his best offer."
As Spotrac shows, Cromartie's cap hit for 2014 is $14.98 million, the highest total on the team (yes, even more than Mark Sanchez, if you can believe that). If New York cuts Cromartie, the team still would lose about $5.5 million in dead money, but that obviously is more palatable than the nearly $15 million it would cost to have him on the roster next season.
After Darrelle Revis was traded to the Buccaneers last offseason, Cromartie became the Jets' No. 1 cornerback with uneven results. Pro Football Focus ranked him as the 103rd-best cornerback in the league (out of 110 players), but Cromartie could point to knee and hip problems as two reasons he struggled.
While Jets rookie cornerback Dee Milliner didn't play well for most of the season -- and he was benched multiple times -- it still would make sense that the team would put more of the burden on him rather than keep Cromartie on the roster at his current salary. Last month, though, Cromartie said he was open to a new deal.
"This is where I want to retire," he said.
Follow Josh Katzowitz on Google+
The former Buccaneers kicker did not have things start well for him in Chicago

Bears special teams showed up in a big way against Arizona

Beast Mode got loose with Oakland and looked pretty impressive in the early going
Beast Mode was one of several players to sit during the Raiders-Rams game

The cleaning staff in Houston missed a couple of things while cleaning up after Super Bowl...

Marvin Jones had some serious fun in the end zone after scoring against the Jets