Report: Authorities think Hernandez fiancee hindered investigation
Though the fiancee of Aaron Hernandez hasn't been charged in connection with the killing of Odin Lloyd, she also hasn't been forgotten.
• 1 min read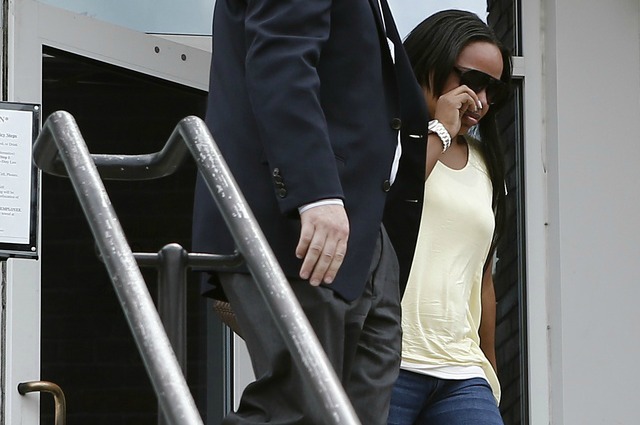 While many others who were close to former Patriots star tight end Aaron Hernandez are under investigation or are being held in contempt of court for not testifying before the grand jury, there hasn't been much written about Hernandez's fiancée.
But in court documents released Friday and reported by the Hartford Courant, a storage unit rented in the name of Shayanna Jenkins, who's engaged to Hernandez, has been investigated because they reportedly believe she made "overt attempts to hide evidence … and to hinder and mislead" the investigation of the Odin Lloyd murder.
Also in the new documents, investigators believe Jenkins might know what happened to the gun used in the shooting. At this point, that weapon has not been recovered, and many outside observers believe that's a key piece of missing evidence that would help Hernandez's defense attorneys.
More from the newspaper:
According to the records, June 18 footage from the home shows Shayanna Jenkins leaving the basement of the [Hernandez] house around 1:15 p.m., carrying a trash bag, which authorities say contains a heavy "rigid object," resembling a lock box or safe. She placed the trash bag in the trunk of a red Nissan Sentra. Surveillance footage showed her returning 35 minutes later and opening the trunk of the car, which no longer held the trash bag and "rigid object," the records show.

Carlos Ortiz, one of the suspects charged in connection with the case, has told police that shortly after the shooting, Hernandez stashed two guns in a box in the basement.

The footage referred to in the documents shows Shayanna driving the Nissan toward Landry Avenue, where police the next day found a .22-caliber handgun. The gun, authorities said, looked like it may have been "recently discarded."
The documents go on to suggest that Shaneah Jenkins, the sister of Shayanna, told investigators that Hernandez called his fiancée the day after Lloyd was discovered and said he wanted weapons out of his house.
Investigators searched Shayanna Jenkins' storage unit July 26, but they did not seize anything from it.


Follow Josh Katzowitz on Google+
A couple of dogs emerge victorious in the Conference Championship round

Follow along with live updates on the AFC Championship Game between the Jaguars and Patrio...

Haley made the Steelers into one of the league's most fearsome offenses
Gronk is one of the toughest players to defend in the NFL, so how will the Jaguars handle...

Tom Brady used his injured hand to post a must-see hype video to Instagram

Robert Kraft has plenty of things to say before Sunday's AFC title game