Report: Bears to re-sign Jordan Palmer after Jay Cutler injury
With quarterback Jay Cutler injured, the Bears will add Jordan Palmer to backup Josh McCown.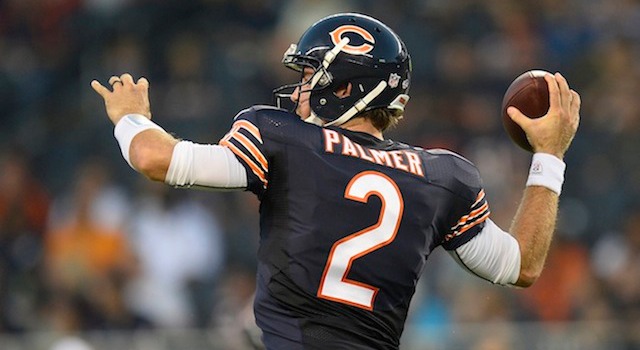 Jordan Palmer has  a new team and it's the same as his old team: the Chicago Bears. Palmer is set to re-sign with Chicago this week, according to ESPN.com. Bears starting quarterback Jay Cutler went down with a groin injury in the first half of Chicago's 45-41 loss to Washington and never returned to the game. 
Palmer will backup Josh McCown, the only other quarterback on the Bears roster. McCown threw for 204 yards and a touchdown against the Redskins.
The Bears originally signed Palmer in mid-August after third-string quarterback Matt Blanchard broke his hand. Chicago ended up deciding to only carry two quarterbacks though and Palmer was cut on Aug. 31.
In his only extended preseason appearance, Palmer went 11 of 17 for 111 yards and a touchdown in an 18-16 Bears loss to the Browns. 
Palmer's been in and out of the league since being drafted in the sixth round by the Redskins in 2007. The 29-year-old didn't latch on with Washington, but he did join his brother Carson in Cincinnati for three seasons (2008-2010). Palmer was out of football in 2011 before spending last season with the Jaguars. 
Like everything with Luck, there's some good news and some bad news with his latest health...

The top would-be free agent wide receiver is officially off the market

A billionaire owner of the Pittsburgh Steelers is hoping to buy the Carolina Panthers
The crop of free agent offensive linemen just got better

Laurent Duvernay-Tardif might have just made one of the most unique jersey requests in NFL...

The new Raiders coach offered some details on what he wants from Marshawn Lynch