Report: Bears WR Josh Morgan charged with simple assault in DC
Josh Morgan has reportedly been charged with simple assault after allegedly punching a valet at a Washington DC night club in the early morning hours of April 27.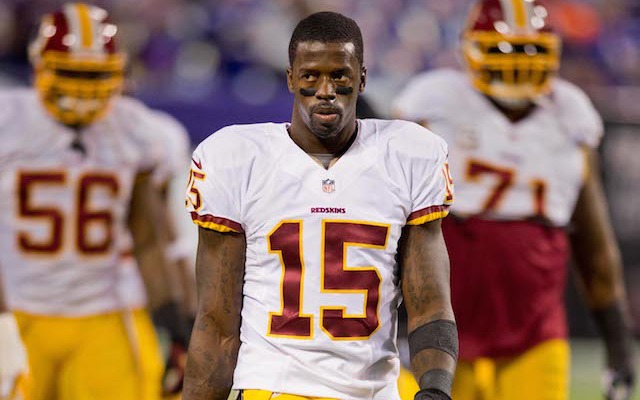 More NFL offseason: Mock Drafts | Prospect Rankings | Pro days | Top free agents
Josh Morgan's career in Chicago is already off to a rocky start. Just one week after signing with the Bears, Morgan has been charged simple assault after being involved in an altercation outside of a night club in Washington DC, according to NBCWashington.com.   
During the incident, which took place in the early morning of April 27, Morgan allegedly punched a valet after the valet 'looked' at two women that were with Morgan. 
"I was just standing there and I looked up, and in the blink of an eye he just punched me right in the mouth," the valet, Kenneth Johnson, told NBC Washington. "Instantly my mouth is bleeding profusely, just blood coming out all over my jacket and stuff. I was scared. I didn't know what to do."
According to Johnson, he didn't do anything that would have provoked Morgan to punch him. 
"It's not fair for anybody to go around punching people just doing their job," Johnson said. "I didn't say anything disrespectful to the lady. I didn't look at her or sexualize her in any way. I just looked in the direction and I got hit."
Morgan was taken into custody after the incident, but has since been released. The Bears wide receiver told an NBC reporter that charges are crazy. "I have always been a stand up guy in the community, nothing like this has ever happened to me before," Morgan said. "I didn't touch him. I didn't do anything. This is crazy."
As all NFL teams do following an arrest, the Bears issued a short statement on Morgan's situation. 
"We are aware of Josh Morgan's presence at a weekend incident in Washington, D.C.," the team said in a statement. "We are currently gathering information to learn more about the circumstances surrounding the event."
The charge against Morgan comes just one week after he signed with the Bears on April 21. Before signing with Chicago, Morgan spent two seasons with the Redskins. The 28-year-old also spent four years in San Francisco after the 49ers selected him in the sixth round of the 2008 NFL Draft. 
The 3-7 Broncos are not in a good place right now

This young fan wins Thanksgiving

Pete Robertson ran a downed punt into the end zone, costing his team 13 yards
The Chargers are finally looking like a playoff team after a 28-6 win over the Cowboys on...

The Vikings, led by Case Keenum, are one of the NFL's best teams

The Vikings' pass rusher revealed the latest addition to the family after sacking Matthew...