Report: Bills CB Stephon Gilmore to miss 8 weeks with wrist injury
After leaving the Bills third preseason game with a wrist injury, it's been reported that Stephon Gilmore could miss six games.
• 1 min read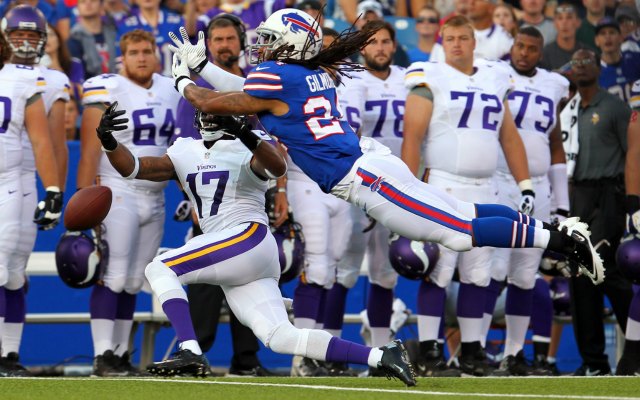 As the Bills were getting squashed by the Redskins last weekend, cornerback Stephon Gilmore had to leave the game with a wrist injury. Turns out the news on the No. 10 overall pick from 2012 isn't so good.
Gilmore is expected to miss about eight weeks with his injury, which would equal about six games, according to Foxsports.com.
It's already been a brutal week for the Bills.
They've lost starting quarterback E.J. Manuel for the rest of the preseason with a knee injury, and there's concern that backup Kevin Kolb's career is in jeopardy after sustaining another concussion (the stepfather of C.J. Spiller also was reportedly identified as the gunman in a shooting that left two men dead).
Gilmore started all 16 games last season and made one interception to go with 16 pass break-ups. Pro Football Focus, though, wasn't impressed, ranking him 80th out of 113 cornerbacks.
But Gilmore was also having an impressive preseason.
In fact, WGR 550 wrote this glowing report: "Watching second-year cornerback Stephon Gilmore cover up receivers play after play, and practice after practice, it really makes you believe a breakout campaign could be on the way for the young player. … Gilmore has been poised, consistent and he's even making plays on the ball to force turnovers. If he can transition his play from camp into the regular season, he could be on the cusp of being one of the next great cornerbacks in the NFL."
The bad news now for Buffalo is the rest of cornerbacks aren't nearly as good. Which obviously is a problem.


Follow Josh Katzowitz on Google+
A driver alleges that Winston grabbed her crotch while at a drive-thru in March of 2016

Larry Fitzgergald might not ever retire, but when he does, he could be second all-time in receiving...

Adam Silver immediately said no when approached about the job, according to a report
That was Jerry's response after Goodell informed him of Ezekiel Elliott's suspension

Josh Nagel is a whiz at picking Seahawks games and makes a strong pick for 'Monday Night F...

Philadelphia is going to put the hammer down on Dallas Sunday night