Report: Bills 'expect' to sell for more than $1.1B
The Bills 'expect' to sell for more than $1.1 billion according to a report.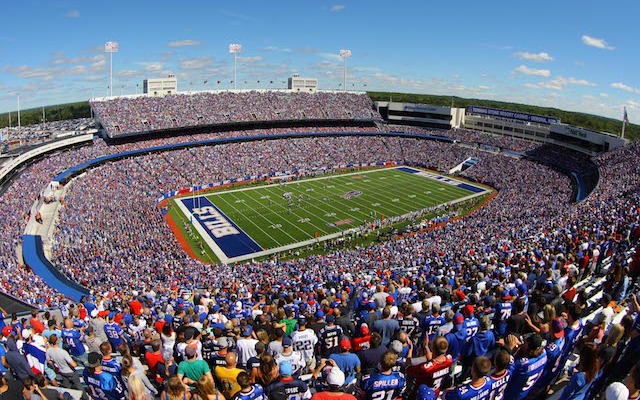 More NFL: Photos |   Videos & GIFs |  Stories | Training Camps | Johnny Manziel watch 
The value of professional sports franchises are through the roof these days and anyone looking to sell is feeling especially excited after the sale of the Los Angeles Clippers for an astounding $2 billion.
After Ralph Wilson died, the Bills are up next. And ESPN's Sal Paolantonio reported on Monday morning the Bills "expect" to sell for "more than $1.1 billion."
"League sources tell me last night the Bills expect the sale of the team to reach more than $1.1 billion," "That's an incredible number considering Forbes magazine just valued the team at $870 million. The ownership groups looking at this team can expect to pay 20 percent more than the value of the team."
Despite the Bills being one of the lesser attractive franchises in the NFL (sorry, Bills, but it's true and it's like being one of the ugliest models at an SI Swimsuit shoot so don't get too mad), there are ample bidders for the Buffalo team.
Bon Jovi is the headliner in terms of potential owners (he's worked with a pro football team before and has endorsements from at least one current NFL owner) and Donald Trump refuses to stop being involved.
Both guys promise to keep the team in Buffalo.
"There are no shortage of qualified candidates who are ready and eager to buy into the NFL, with the leagues finances booming and its broadcast and labor situation secure through the rest of this decade," CBS Sports NFL Insider Jason La Canfora wrote back in March. "For every name you hear, there are several more lurking."
Former Bills quarterback and Hall of Famer Jim Kelly's name has been mentioned with possible new ownership groups, but his battle with cancer is obviously the top priority.
B. Thomas Golisano, former owner of the Buffalo Sabres is a candidate as well. Rogers
In short? There are a lot of rich people interested in landing the Bills. (Buffalo Sabres owner Terry Pegula and Rogers Communications could be mentioned as well. As La Canfora noted, "no shortage.") 
NFL teams are printing money at an unprecedented rate these days, making it more of a smart investment than a hobby.
There isn't the rush to sell the Clippers had (lawsuits, etc.) or the Los Angeles market. But it wouldn't be shocking at all to see the Bills topple a billion dollars on the open market.
CBS All Access allows viewers to stream every NFL on CBS game in their local market

CBS All Access allows viewers to stream every NFL on CBS game in their local market

CBS All Access allows viewers to stream every NFL on CBS game in their local market
CBS All Access allows viewers to stream every NFL on CBS game in their local market

CBS All Access allows viewers to stream every NFL on CBS game in their local market

CBS All Access allows viewers to stream every NFL on CBS game in their local market