Report: Bills to workout former Raiders QB Matt Flynn
The Buffalo Bills plan to workout former Raiders quarterback Matt Flynn.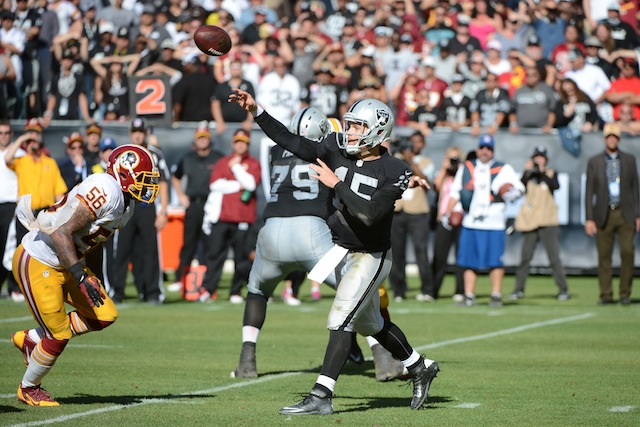 Matt Flynn wasn't the answer in Oakland, but that doesn't mean he can't be a temporary fix for the Buffalo Bills. At least if the Thad Lewis experiment doesn't work out. Flynn, who was released by the Raiders on Oct. 7, is currently in Buffalo for a workout with the Bills, according to ESPN.com. 
A Week 5 knee injury to starting quarterback EJ Manuel forced Buffalo to start Lewis in Week 6. Lewis threw for 216 yards and two touchdowns and almost led the Bills to an upset of Cincinnati. However, during the 27-24 overtime loss, Lewis injured his ankle, although he did later say he would be 'fine.'
Fine or not, the Bills are still going to look at Flynn. 
The sixth-year quarterback already has one start under his belt this season, but it wasn't a exactly a pretty one. In Flynn's lone start, a 24-14 Week 4 loss to Washington, Oakland coach Dennis Allen pretty much threw Flynn under the bus, saying that Flynn didn't "play well" and that he wasn't able to see the field well.
The Raiders might be hoping Flynn signs with Buffalo. Flynn has $6.5 million fully guaranteed contract for 2013 that Oakland's on the hook for paying. However, the Raiders did include offset language in Flynn's contract, so if Flynn were to sign with the Bills, any money Buffalo pays him would be money the Raiders don't owe him.
The Steelers' wideout was suspended for his hit on the Bengals' linebacker

Plus everything you need to know about the game

The Steelers' tight end was convinced he scored the game-winning touchdown
Here's an early look at the lines for all NFL games being played in Week 16

Plus the catch rule is still terrible, the Panthers quash the Packers' playoff hopes and much...

Week 15 provided a lot of clarity to the NFL postseason