Report: Bon Jovi group's bid to buy Bills is on 'life support'
It's looking more and more like Jon Bon Jovi won't be apart of the group that ends up buying the Buffalo Bills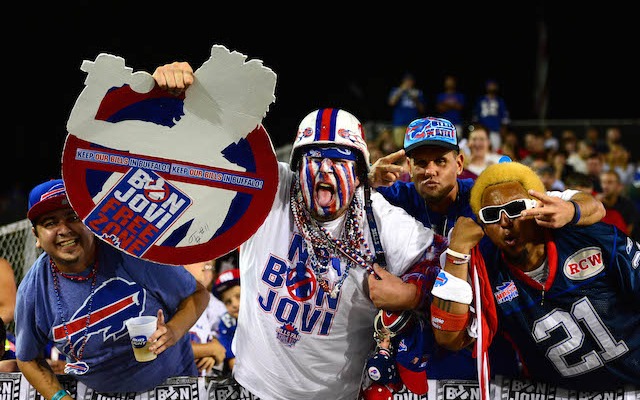 It's not just a pun anymore, as it turns out, Jon Bon Jovi's bid to the buy the Buffalo Bills actually is 'Livin' on prayer.' According to the Toronto Sun, the Bon Jovi group's bid to buy the team is on 'life support.' 
"They're hanging on by the skin of their teeth," a source told the Sun. "The bid's on life support." 
According to the Sun, the main problems with the Bon Jovi group is that it has limited bidding power because of Bon Jovi's finances and there's doubts that the group would keep the Bills in Buffalo. 
It gets worse for the Bon Jovi Group. According to the Buffalo News, the group was supposed to tour the Bills facilities on Wednesday, but didn't show up. This comes less than two weeks after the group was asked to resubmit its bid. 
Bon Jovi group was scheduled to tour Bills facilities yesterday, but did not. No reason given.

— Tim Graham (@ByTimGraham) August 21, 2014
The Bon Jovi group has been under scrutiny pretty much since the beginning of the bidding process. In mid-July, the Bon Jovi group said it would keep the Bills in Buffalo if it bought the team. However, less than a week after, the Associated Press obtained a report that said the group was exploring at least three stadium sites near Toronto, which would be a no-no. 
Under terms of the Bills lease, the franchise isn't allowed to negotiate with any potential owner who might relocate the team before the 10-year lease is up at Ralph Wilson Stadium in 2022. The Bills are locked into playing in Buffalo through the 2019 season. At that point, a potential owner could pay $28.4 million to void the final three years of the deal, which is set to expire in 2022.
Bon Jovi wrote a letter in early August saying he wouldn't move the team, but that did little to calm fears in Buffalo. 
"I know how much the Bills mean to the people of this region," Bon Jovi wrote. "So I want you to hear this from me: I'm not risking it all to let you down. If we are given the chance to be the next owners of the Buffalo Bills, I promise you that we will bring the same passion that you do every Sunday, every day."
Former Bills receiver Andre Reed is probably pretty excited about the latest developments involving Bon Jovi. "Man, f--- Bon Jovi!" Reed said in July. "You might as well just take this city, throw it in the river, and let it go down Niagara Falls."
The Oklahoma quarterback isn't exactly being discreet about where he wants to begin his NFL...

No one was hurt, but Fournette's Mercedes lost a bumper

It might be time to begin worrying about the Patriots quarterback
The Patriots are still odds-on favorites, but the other teams are closing in

SportsLine tapped into its Vegas sources to see who professional bettors like Sunday

Philadelphia readies itself for a massive celebration if the Eagles advance to the Super B...