Report: Bon Jovi part of Toronto group trying to buy Buffalo Bills
Jon Bon Jovi is 'passionate in his pursuit' of owning an NFL franchise and he currently has his eyes on the Buffalo Bills.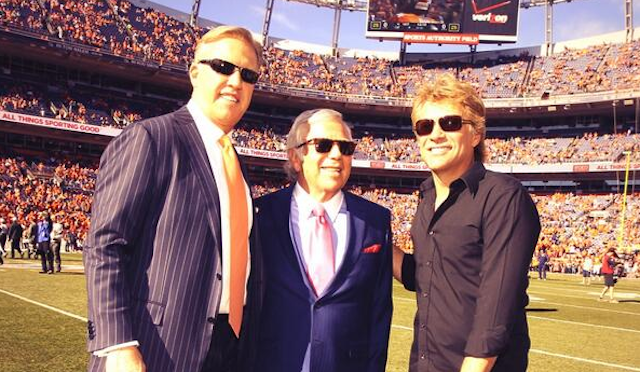 Back in November, CBS Sports NFL Insider Jason La Canfora reported that rocker Jon Bon Jovi was interested in buying the Buffalo Bills. The only problem with Bon Jovi's plan was that the Bills weren't for sale yet.
However, following the death of owner Ralph Wilson, the Bills are expected to be sold as soon as October and Bon Jovi is still interested in buying the team. Actually, he's very interested, according to his publicist Ken Sunshine, "Jon remains passionate in his pursuit of an NFL franchise," Sunshine told the Toronto Sun on Thursday. 
La Canfora theorized in November that a Bon Jovi bid would likely include Maple Leaf Sports and Entertainment, a group that owns the NBA's Toronto Raptors and the NHL's Toronto Maple Leafs. 
From La Canfora's original report: 
Tim Leiweke, a former honcho at AEG (whose plans to bring a team to Los Angeles have hit several snags) is now president and CEO of Maple Leaf Sports and Entertainment, owner of the Toronto Maple Leafs and a massive player in the sports and entertainment landscape of the region. And sources said Bon Jovi has major ties to Leiweke and his daughter and that perhaps they could eventually align in pursuit of the Bills, with Bon Jovi the public face of the franchise.
Five months later, that appears to be exactly what's going to happen. The Toronto Sun also points out that MLSE Chairman Larry Tanenbaum 'remains in league' with Bon Jovi. 
The reason Bon Jovi would need to be apart of a group to buy the Bills is because he doesn't have enough money to purchase an NFL team. Although Bon Jovi's worth an estimated $290 million, the Bills sale price could reach $1 billion, over triple what the rocker is worth.  
Even if Bon Jovi gets a viable bid together, there's no guarantee his group would be able to buy the team. Any sale of an NFL team must be approved by 75 percent of NFL owners, which means 24 owners would have to vote in favor of the Bills being sold to Bon Jovi. 
Bell reportedly showed up for only the last five minutes of the team's walkthrough

Two super-sized runners and a pair of tall wideouts have the skills to shine during a week...

The Vikings become the first team to play in a Super Bowl held in their home stadium
Belichick was predictably mum in regards to Brady's status

R.J. White, who nearly won the Las Vegas SuperContest, locks in his pick for the NFC Championship...

Everything you need to know about the AFC and NFC title games