John Elway may have said all the right things publicly about wanting to keep Brock Osweiler in Denver, but the reality is that he wasn't going to get into a bidding war for a guy who was benched for the worst quarterback in the league last season.
Even if that means Osweiler is now a member of the Texans and the Broncos' current depth chart at quarterback begins and ends with Trevor Siemian, a 2015 seventh-rounder who held down third-team duties as a rookie.
So how far apart were the Broncos and Osweiler?
CBS Sports NFL Insider Jason La Canfora reports that Denver originally offered $13 million a year, and subsequent reports said it moved to three years, $45 million. And WUSA's Mike Klis tweeted that the Broncos went as high as $16 million per year with $30 million guaranteed. Meanwhile, the Texans countered with something in the $17-$18 million-a-year range.
(ESPN's Adam Schefter puts the deal at four years, $72 million, which is $18 million a season.)
Then there's this: Osweiler wanting to get out of Peyton Manning's shadow and make a fresh start elsewhere "were factors" in his decision to leave Denver, according to Klis.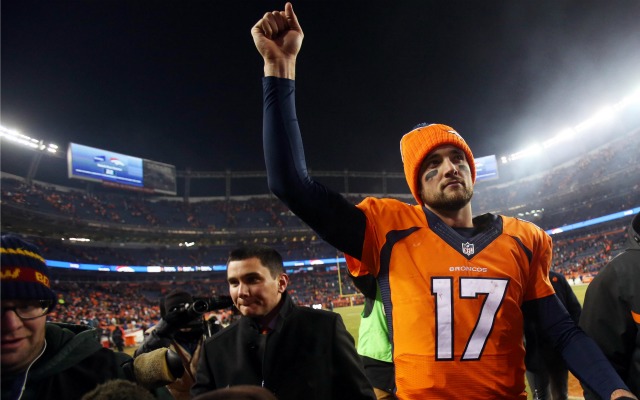 On one hand, it makes perfect sense. The last guy to replace a legend in Denver didn't fare well; Brian Griese didn't really have a chance succeeding John Elway. And while Osweiler was serviceable in seven starts last season, he put up replacement-level numbers. Which, unless you're the Eagles or Texans, isn't worth $17-$18 million a year.
Plus, in Houston, all Osweiler has to do is outperform Ryan Mallett, who should have won the job out of training camp over Brian Hoyer last year (but didn't), and when he got his chance, he couldn't wake up for work. The Texans eventually released Mallett and now Osweiler, who shares many of Mallett's physical attributes, will be given the keys to the offense.
The Texans have also bolstered the backfield by signing former Dolphins running back Lamar Miller. Not surprisingly, the overreactions about the 2016 season are already rolling in.
Do Brock Osweiler & Lamar Miller make the @HoustonTexans Super Bowl contenders?

— Houston News (@abc13houston) March 9, 2016
Not everyone is buying in, however.
Off the rails crazy! $18mil/yr! That's twice as much as Tom Brady will make this year. Guy has done ZERO in the NFL! https://t.co/UvvIKmv0F6

— Mark Zinno (@MarkZinno) March 9, 2016
The guy who got benched for one of the least effective QBs in the league? He's not that compelling. https://t.co/LZHoZ35lP8

— Chris Wesseling (@ChrisWesseling) March 9, 2016
And, of course:
AFC South QB Ranking: 1. Luck. 2. Mariota. 3. Bortles. 4. Osweiler.

— John Breech (@johnbreech) March 9, 2016
Ouch.
Wherever the truth lies, the reality is that the Texans should be better. But we've had these conversations before and things can go sideways in a hurry. We're not ready to make any grand proclamations just yet.