Report: Broncos, DC Jack Del Rio agree to two-year deal
Broncos defensive coordinator Jack Del Rio has agreed to a deal that will keep him in Denver for at least two more years.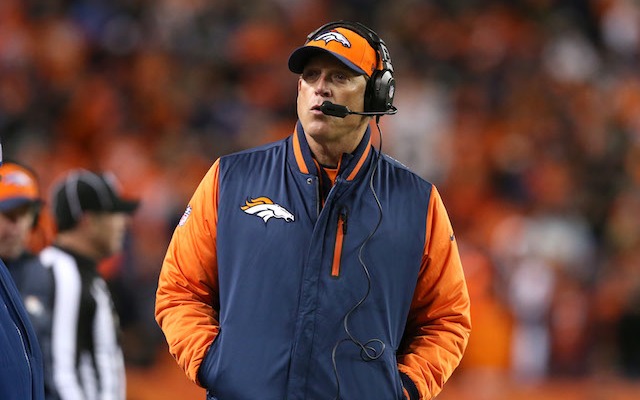 If the Broncos are going to make a return trip to the Super Bowl next season, they're going to do it with the same defensive coordinator who helped get them there this season. Denver and Jack Del Rio have agreed to terms on a two-year contract that will keep Del Rio in town until after the 2015 season, according to the Denver Post. 
Del Rio's contract was set to expire shortly after the Super Bowl and both parties had to decide if keeping Del Rio in Denver was a good idea. The 50-year-old just finished his second season as the Broncos defensive coordinator.   
"Jack did a nice job with our defense," Denver's executive VP of football operations John Elway said. "We had a lot of injuries on that defensive side and Jack did a good job holding that side together. Even in the Super Bowl, our defense kept us in the game in the first half."
That's not crazy talk from Elway either. The longest touchdown drive by the Seahawks in the first half was 37-yards and that after a Peyton Manning interception. The other points came on two field goals, a safety and a Manning pick-six thrown to Seahawks linebacker and Super Bowl MVP Malcolm Smith. The Broncos outgained Seattle 112-18 in the second quarter, but were outscored 14-0. 
Del Rio didn't just serve as the Broncos defensive coordinator in 2013, he was also an interim coach for four games after John Fox underwent heart surgery. The former Jaguars coach led the Broncos to a 3-1 record while Fox was out. 
Under Del Rio, the Broncos defense ranked second overall in the NFL in 2012 and 19th overall in 2013. The defense the Broncos rode to the Super Bowl ranked seventh against the rush. 
In the past week, Marshawn Lynch and Michael Bennett have both sat during the national ant...

As expected, the internet had jokes about the Chick-fil-A at Mercedes-Benz being closed on...

Harrison is the franchise's all-time leading sacker, but J.J. Watt's brother will get the starting...
More than 17 percent of fans say they would never consider dating a Pats fan

Brady said that his lack of speed is why he fell so far in the draft in the first place

If Thomas is right, that means it's bad news for DeShone Kizer's chances of starting early