Report: Broncos K Matt Prater to be suspended first four games of 2014
Kicker Matt Prater, the Broncos leading scorer from 2013, is expecting to be suspended for the first four games of the 2014 season.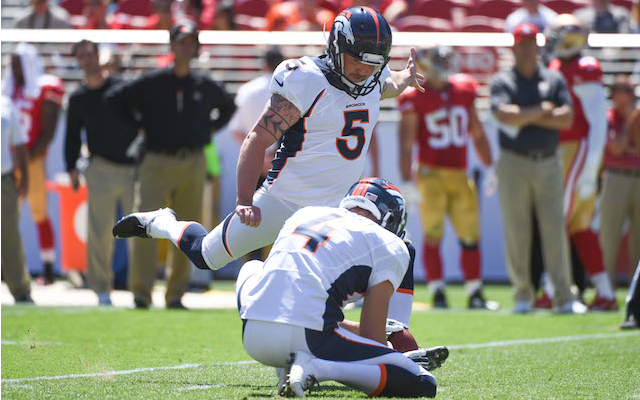 The NFL's second-leading scorer in 2013 is going to be suspended for the first four games of 2014. Broncos kicker Matt Prater told the Denver Post that he's facing a four-game suspension for violating the NFL's substance-abuse policy. 
Although the league hasn't announced the kicker's suspension yet, both Prater and his attorney confirmed to the Post that Prater will miss the Broncos first four games. 
"I've made some mistakes," Prater said. "I'm accepting full responsibility. I'll learn from it and come back a better person. I want to apologize to my teammates, my coaches, the Broncos' organization and the fans."
Prater's attorney, Harvey Steinberg, says that Prater was suspended for drinking a few beers at home. 
"[Matt] feels terribly for his teammates. It's cost him personally, both professionally and financially," Steinberg said. "I wonder if we shouldn't take a second look at the policy when only a couple beers were consumed at home while he was on vacation. Having said that, the NFL under the constraints of the policy couldn't have treated us better."
Prater has been in the NFL's alcohol program since August 2011, when he was arrested and charged with DUI. The 2011 DUI was Prater's second in three years, according to USA Today. Prater also got a DUI in Orlando in 2008. 
According to Steinberg, the league initially wanted to suspend Prater for an entire season, but that was negotiated down to four games. 
The Broncos kicker scored 150 points last season, second only to Sebastian Janikowski's 158 points. Three of Prater's 150 points came on a 64-yard field goal in Week 13 that set the NFL record for longest field goal. 
After the NFL announces the suspension, Prater will still be eligible to play in Denver's preseason finale, although it would seem to make more sense for the Broncos to give those reps to backup kicker Mitch Ewald. The rookie kicker, signed in July, holds the Indiana record for field goal percentage and is the second-leading scorer in school history. 
As for Prater, he's allowed to practice with the team from now until the preseason's over. The 30-year-old's suspension will begin just before Week 1 in September and Prater will be eligible to return to the Broncos' active roster on Oct. 6.
Jackson, who worked with McCarron in Cincinnati, tried to trade for him last season

The Browns are sitting pretty and the Jets should be able to finally get their franchise Q...

The Jets made their move up the draft board which could have a ripple effect around the le...
The Jets didn't get their quarterback in free agency and they're making sure they don't miss...

Mathieu, who was looking for $11 million a year, now ranks 34th in salary among NFL defensive...

Jimmy's Famous Seafood bribed the former Raiders wide receiver before he signed in Baltimo...