While we await word form Peyton Manning about his NFL future, the Broncos have made it clear that 25-year-old quarterback Brock Osweiler is in their long-term plans. On Friday, the Denver Post reported that the team made Osweiler a "competitive" contract offer that would pay him more than $12 million a season.
Now WUSA's Mike Klis pegs the offer at three years and more than $45 million.
Osweiler, a second-round pick in 2012, will become a free agent on Wednesday at 4 p.m. ET if the two sides can't come to terms on a new deal. It's unclear if Osweiler would be on board with an average annual salary just north or $15 million -- it would make him the 21st highest-paid quarterback, sandwiched between Andy Dalton and Foles, according to Spotrac.com -- but it's reasonable to think he would generate plenty of interest on the open market.
"I think he has a very bright future," Broncos coach Gary Kubiak said last month of Osweiler. "Obviously we think the world of him, and we want him to be a part of our football team -- we've got a lot of guys that are free [agents] like that. But he's been really special with the job he's done this year, and I think he's grown a great deal."
So what's the going rate for a young passer who fared well in seven starts last season while Manning recovered from a foot injury?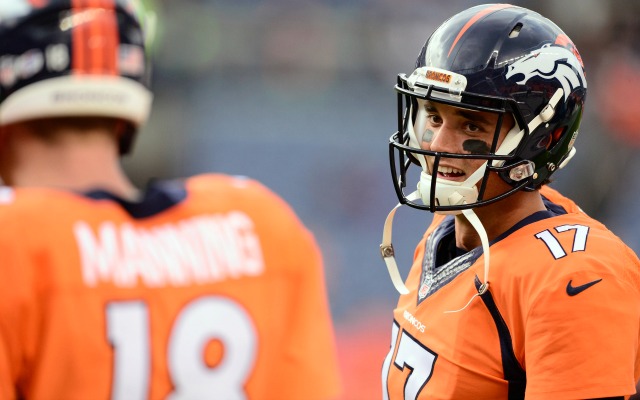 According to former agent Joel Corry, writing for CBSSports.com, "The two-year, $24.5 million contract extension (worth a maximum of $38 million through incentives) Nick Foles received from the Rams in the preseason containing $13.792 million in guarantees may be Osweiler's salary floor."
Put another way: three years, $45 million sounds like a good starting point.
Worth noting: Sam Bradford, who hasn't come close to sniffing the playoffs in six mostly disappointing NFL seasons, just signed a two-year, $36 million contract ($22 million guaranteed) with the Eagles.
Whatever happens with Osweiler and the Broncos, it's impossible to imagine a scenario where 39-year-old Peyton Manning returns to Denver. And while the organization has told the future Hall of Famer to take his time, the truth is that we'll know his plans no later than March 9. That's the official start of the league calendar, and the date Manning's $19 million 2016 base salary becomes fully guaranteed.