Report: Broncos privately preparing to part ways with Peyton Manning
Peyton Manning doesn't seem to be in the Broncos plans for 2016.
The "Peyton Manning Retirement Watch" officially went into circus mode on Saturday night when the Denver Post reported that Manning would likely be announcing his retirement by the end of the week. 
Shortly after that though, the Broncos refuted the Post's report. According to the team, Manning hasn't made any decision about what he's going to do in 2016.
Manning's decision might not matter, though, because, according to FoxSports.com, the Broncos have basically already made the decision for him. Alex Marvez writes that it's "not a matter of if but when" the team and Manning will part ways. 
Marvez also adds that the Broncos have been "prepping" to not have Manning back. He reports the team has several key free agents -- including Von Miller, Brock Osweiler and Malik Jackson -- and Denver entered negotiations this offseason with the understanding that Manning's $19 million cap hit won't be on the books in 2016. 
The clear insinuation is that Manning's cap hit won't be on the books because he won't be on the team, a fact that most people already believe. After Denver's 24-10 win over Carolina in Super Bowl 50, Archie Manning said that his son was "done" in Denver.
About a week after Archie's comments, PFT added that the Broncos likely wouldn't even consider taking Peyton back at a reduced rate from his scheduled $19 million salary.
Broncos executive vice president John Elway has been insisting all offseason that Manning will be given all the time he needs to make a decision. However, that's easy to say when you already know what the decision will be and based on the report from Fox Sports, Elway seemingly knows that Manning's not coming back.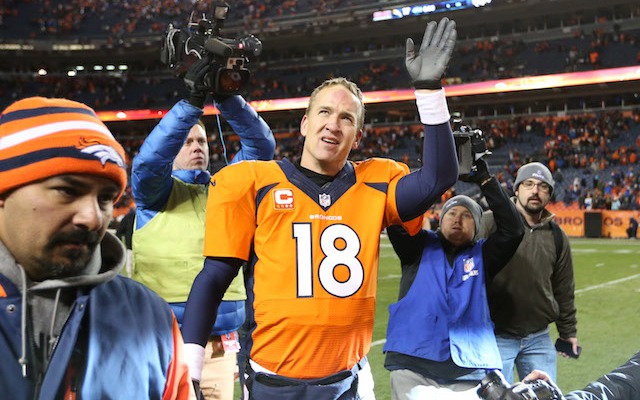 CBS All Access allows viewers to stream every NFL game on CBS game in their local market

CBS All Access allows viewers to stream every NFL game on CBS game in their local market

The Steelers' rookie wide receiver returns ahead of Sunday's matchup against the Patriots
The union is concerned that Kaepernick's visit will incite violence against guards from in...

Salary deferrals make identifying most lucrative contracts from year-to-year complicated

The Titans' best player has had the worst season of this NFL career in 2017