Report: Browns 'stunned' by Johnny Manziel's nonstop partying
The Browns have been slightly 'alarmed' by Johnny Manziel's behavior.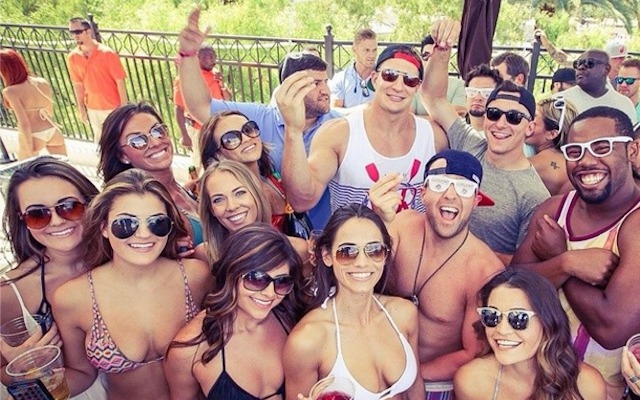 Gregg Doyel: Manziel might party himself out of NFL | Johnny Manziel watch 
Everyone who has followed Johnny Manziel's career from Texas A&M to the NFL has probably noticed one thing: Johnny Football likes to party. 
Apparently he's partying a little too much for the Browns though. According to Cleveland.com, the team is "alarmed" by Manziel's antics and even slightly stunned. 
One of the reasons the Browns took Manziel with the 22nd overall pick in May's draft is because Johnny Football said he had "grown up" and put the partying behind him. In only two months with the team, that clearly hasn't been the case and the Browns think his partying is actually hurting his play on the field. 
From Cleveland.com. 
Manziel regressed in practice after the first week of organized team activities, and some in the organization attributed it to too much jet-setting and not enough dedication to the playbook.

Team officials had bought into Manziel's pre-draft promises to tone down the partying and leave his frat-boy lifestyle back in College Station, Texas, and they've been stunned by his non-stop antics, sources said.
In the 11 weekends between when Manziel was drafted and when he reported to training camp, the quarterback has gone on at least eight trips. One of those trips included a Fourth of July visit to Austin, Texas, where he was pictured in a bathroom rolling up some cash. 
The bathroom picture alarmed the Browns so much that coach Mike Pettine called Manziel from Hawaii, where Pettine was on vacation. According to Cleveland.com, a picture like that can warrant an NFL inquiry and a drug test. 
Is this latest picture of #Manziel rolling bills in the bathroom the most troubling we've seen so far? pic.twitter.com/uF0KwVYwA4

— TBD in the AM (@TBDintheAM) July 7, 2014
In an interview with ESPNCleveland.com this week, Pettine was asked specifically about the conversation he had with Manziel regarding the bathroom picture, "I felt very positive coming out of the conversation and I'm very confident moving forward, now that it's 100 percent about football, that it will be much less of an issue," Pettine said. 
Of course, Pettine's not going to come out and say, "I think Johnny has a problem."
However, if probably should be pointed out that Pettine didn't unequivocally say "no" when he was directly asked by ESPN Cleveland whether he thought Manziel had a drinking problem.
Pettine has made it clear Manziel is a long way from winning the starting job in Cleveland and that Hoyer is "securely ahead" of Manziel.
The Browns coach has already announced that Hoyer will be the team's starter in Week 1 of the preseason. An anonymous Browns player took that one step further on Friday, telling ESPN.com, "We're all expecting Hoyer to start" in Week 1 of the regular season. 
Should the Browns be alarmed? Or is this just Johnny being Johnny?
If you've lost track of what Manziel's offseason has been like, here's a brief reminder: Manziel went to Las Vegas over Memorial Day weekend, then was back there for the Fourth of July. That Fourth of July vacation also included a stop in Austin, Texas, where he was caught in the aforementioned bar bathroom photo.
Manziel has also been photographed riding an inflatable swan, hanging out with Justin Bieber and taking a selfie with RG3. He's also in a picture with Bieber's ex-girlfriend in Houston and of course there's the video of Manziel using a wad of cash as a cell phone.
Manziel also played along during the ESPYs when Drake made a joke about Johnny Football doing mushrooms. 
Does all of this mean Manziel can't win the quarterback job? A source who talked to Cleveland.com thinks the rookie can still win it. 
"People will see how hard Johnny works once this thing gets rolling," the source said. "He'll get more mature as he goes along. He's 21 and people want him to be 35. I would not count him out."
Pick Six Newsletter
Get the day's big stories + fun stuff you love like mock drafts, picks and power rankings.
Please check the opt-in box to acknowledge that you would like to subscribe.
Thanks for signing up!
Keep an eye on your inbox for the latest sports news.
Sorry!
There was an error processing your subscription.
This is the final deal that the Steelers offered Le'Veon Bell

It seems that nothing can slow down the NFL

T.O. seems to be enjoying at least one thing about his Hall of Fame experience
The Steelers were unable to reach a long-term deal with their star running back

Things apparently got kind of wild when the Packers QB went swimming with sharks this summ...

Smith is one of just 14 draft picks who remain unsigned