Report: Chiefs LB Justin Houston likely to miss Week 13 vs. Broncos
Chiefs linebacker Justin Houston will likely miss Sunday's game against the Broncos after dislocating his elbow in Kansas City's Week 12 loss to San Diego.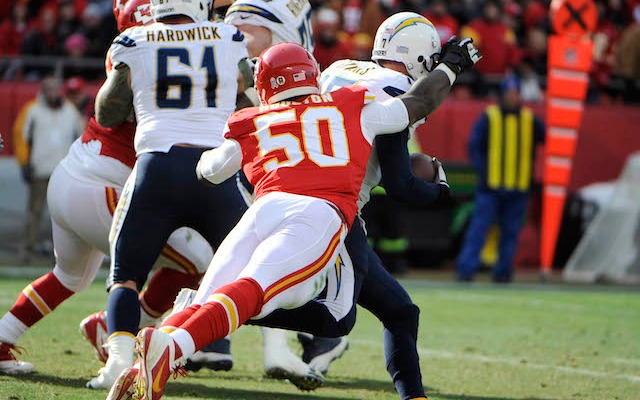 The Kansas City defense couldn't slow down Peyton Manning when linebacker Justin Houston was in the lineup, now they might have to try and do it without him. Houston, who suffered a dislocated elbow against San Diego, will likely miss Sunday night's game against Denver, according to ESPN.com. 
The pass-rushing linebacker has totaled 11 sacks this season, a number that ranks third in the NFL behind only Robert Mathis (14.5 sacks) of the Colts and Robert Quinn (13) of the Rams. 
Houston injured his elbow just before halftime against the Chargers and didn't return to the game. The 24-year-old linebacker was scheduled to have an MRI on Monday, but there was so much swelling in the elbow that the team had to postpone it. 
"You could see it after the game," Chiefs coach Andy Reid said on Monday. "We tried to keep the swelling down, but it was puffing up a little bit after the game when we were in the locker room there. Overnight, it even swelled up more. We'll just wait and see."
The Chiefs could also be without linebacker Tamba Hali against the Broncos. Hali suffered a slight ankle sprain in the second quarter against the Chargers and Reid hasn't said yet if Hali will be able to play on Sunday.
With Hali and Houston both out in the second half against San Diego, the Chargers put up 31 points. Before Week 12, Kansas City hadn't given up 31 points in any game all season, let alone one half. 
It will be tough to stop Manning and the Denver offense without Hali and Houston in the lineup. In the Chiefs first meeting with the Broncos two weeks ago, Manning threw for 323 yards and wasn't sacked once in a 27-17 Denver win -- and that was against a healthy Chiefs defense. 
Houston and Hali have combined for 20 of Kansas City's NFL-leading 37-sacks this season. Linebackers Frank Zombo and Dezman Moses will likely see extended playing time if Hali and Houston can't go against the Broncos. 
Veteran Alex Smith and rookie Patrick Mahomes have both had solid preseasons

Plus Christian McCaffrey is the truth and the possibility of Blake Bortles being out in Ja...

Let's go under the hood, er helmet, of the VICIS ZERO1 design, the safest helmet in footba...
Bennett was touched by Britt's decision to stand by him as he took a seat on Saturday nigh...

A backlog of worthy receivers and lack of dominance may keep Boldin out, at least for a wh...

The commissioner's current deal runs through 2019