Report: Chip Kelly meets with 49ers as possible Jim Tomsula replacement
Kelly continues to look for his next coaching job after being fired by the Eagles a few weeks ago.
Not to be one-upped by the Eagles and the incredibly far-fetched rumor about Jon Gruden's interest, Chip Kelly is taking silly coaching season to the next level with a reported interview with the 49ers.
Kelly and the 49ers met about the vacant head-coaching position in San Francisco, according to Matt Maiocco of CSN Bay Area.
Source: The 49ers have met with former Eagles coach Chip Kelly about the head-coaching job.

— Matt Maiocco (@MaioccoCSN) January 8, 2016
The 49ers unceremoniously dumped Jim Tomsula on Sunday night after just a single year at the helm.
Kelly was surprisingly fired by the Eagles between Week 16 and Week 17, run out of town by Jeff Lurie before he could finish out the season. Kelly won 26 games in three years with the Eagles but just six last season.
While the 49ers job isn't the top spot open on the market -- we actually ranked it the worst of the currently vacant gigs -- there's some sense of why Kelly might want to take over there.
Kelly wants to stick in the NFL and is a west-coast guy. It wouldn't be stunning to see him brought in as the guy to reinvent Colin Kaepernick after a disastrous 2015 saw him replaced by Blaine Gabbert (on the other hand you could argue Kaepernick might not be a perfect fit for Kelly). 
One red flag is how GM Trent Baalke and Kelly might mix.
Baalke is talent > Character. Chip is the opposite. Guys like Aaron Lynch, Carlos Hyde, Tartt were not on Phillys draft board

— John Middlekauff (@JohnMiddlekauff) January 8, 2016
It's all very preliminary here. But maybe in the end Kelly is the big splash name the 49ers want to replace Tomsula.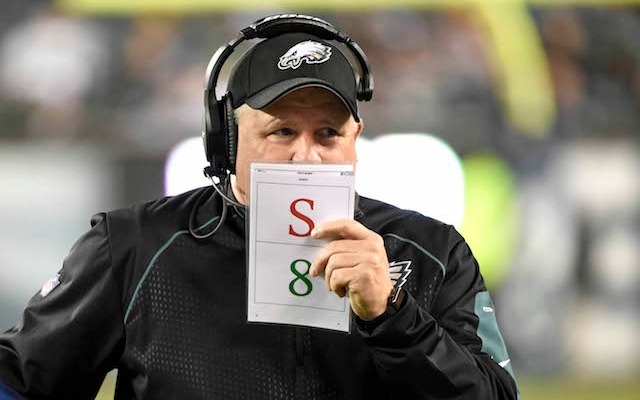 Follow along for Falcons-Steelers and Saints-Chargers, plus other updates from Sunday

The Cardinals rookie safety might have a career in break dancing when he's done with the N...

All signs point to Lynch, the former first-round pick, not beating out Siemian in Denver
The NFLPA executive director comes out out firing in a 'Real Sports' segment

Why didn't McCown, the presumed starter, play Saturday? The Jets don't want you to know

The Raiders duo had a great explanation for their decision to stand next to each other