Report: Chip Kelly reaches out to 49ers about coaching job
How long Chip Kelly remains out of work is unknown but it won't be from lack of trying.
The Eagles didn't wait around until Black Monday to fire Chip Kelly. They decided a new direction was in order a full six days before and Kelly was given his walking papers with one game left in the regular season. How long he remains out of work is unknown but it won't be from lack of trying.
According to ESPN's Adam Schefter, Kelly has reached out to the 49ers, who fired Jim Tomsula on Sunday night after just one season.
At first glance, San Francisco seems like a perfect fit because the organization is rife with dysfunction. A year ago, president Jed York decided it was in the team's best interest to move on from Jim Harbaugh, who led the 49ers to two NFC Championship Games, and was a fourth-down conversion away from a Super Bowl title. In his place: patsy Jim Tomsula, who never had a chance, despite early support from York and general manager Trent Baalke.
As for Kelly, he arrived in the NFL with a reputation for fashioning offenses that got the most out of athletic quarterbacks, and embattled Colin Kaepernick, who lost his job to Blaine Gabbert midway through the 2015 season, certainly fits that bill. But there's also the issue of Kelly's lacking people skills that could possibly make the 49ers' wary.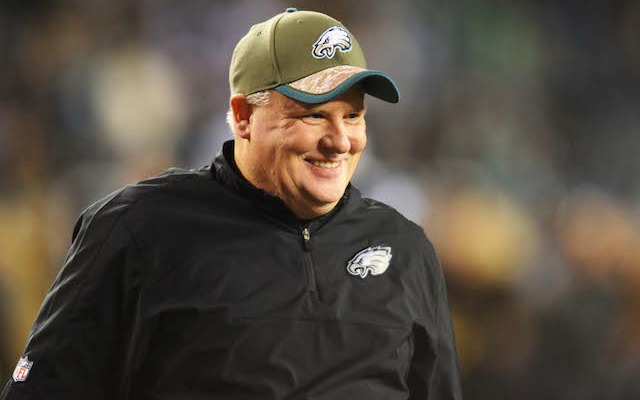 Of course, Harbaugh wasn't exactly known for his warm and fuzzy persona and he had more recent success in San Francisco than anybody not named Seifert or Walsh.
Whatever happens with Kelly, he'll have competition for the job. Current Saints coach Sean Payton could get consideration, as could Bears offensive coordinator Adam Gase. Also don't be surprised if Mike Holmgren, who coached the Packers and Seahawks and was later in the Browns' front office, gets an interview, or if Mike Shanahan expresses interest.
In the meantime, something for potential 49ers' candidates (presumably) to keep in mind:
Do not be deceived. You will reap what you sow.

— Coach Harbaugh (@CoachJim4UM) January 4, 2016
Warren Sapp was one of several players named in a lawsuit against NFL Network

Check out the uniforms that Denver and Indianapolis will be wearing on Thursday

The Cowboys are going to need a few things to go their way to get into the postseason
Rudolph will be put under the microscope in Mobile by clubs looking for a quarterback early...

This fan is taking the Saints to court for using 'football games as a platform for protest...

Can Aaron Rodgers get the Packers to the postseason? Even if they win out, they'll need he...