Report: Clay Matthews expected to miss one month with broken thumb
Packers linebacker Clay Matthews will reportedly miss at least a month after breaking his thumb against Detroit on Sunday.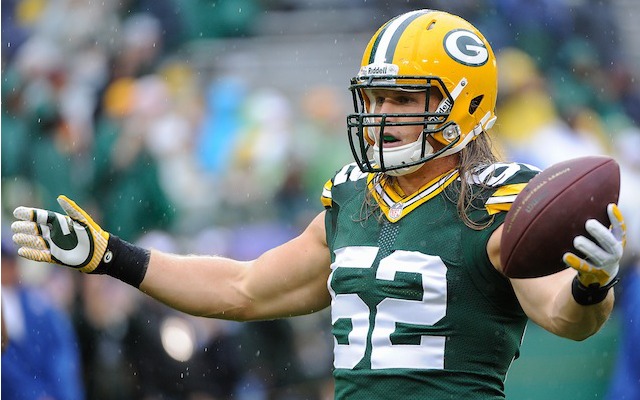 Green Bay Packers linebacker Clay Matthews broke his thumb against the Lions on Sunday and that injury is expected to keep Matthews out for up to a month, according to ESPN.com. 
That's bad news for Green Bay, but as the Milwaukee Journal Sentinel points out, it could've been worse the Packers, they could've lost Matthews for the entire season. Matthews suffered the injury in the second half of Green Bay's 22-9 win over Detroit. 
Matthews picked up this team-leading third sack of the season against the Lions. Matthews also leads the team in forced fumbles. 
Packers coach Mike McCarthy didn't have much to say about Matthews' thumb injury when asked about it on Monday. 
"I'm hopeful it's not season-ending," McCarthy said. "I think we're all hopeful, but you have to get all the opinions and make sure you always do right by the player."
The thumb injury comes just two weeks after Matthews suffered a hamstring injury in the third quarter of Green Bay's Week 3 loss to the Bengals. The Packers had a Week 4 bye, which gave Matthews time to heal before Sunday's game with Detroit. 
With Matthews out for at least the next four weeks, look for Mike Neal and Nick Perry to be the Packers starting outside linebackers. Neal is a converted defensive end who tallied his first sack of the season on Sunday against the Lions. 
If there's one stretch where the Packers might be able to make-do without Matthews, it's the next four weeks. Three of Green Bay's next four games are against teams ranked 16th or lower in total offense: Baltimore (16th), Cleveland (22) and Minnesota (28). The Packers also have Chicago in that four-game stretch. The Bears have the NFL's eighth-ranked offense. 
Check out the uniforms that Denver and Indianapolis will be wearing on Thursday

The Cowboys are going to need a few things to go their way to get into the postseason

Rudolph will be put under the microscope in Mobile by clubs looking for a quarterback early...
This fan is taking the Saints to court for using 'football games as a platform for protest...

Can Aaron Rodgers get the Packers to the postseason? Even if they win out, they'll need he...

The NFL is going to have to look for a new commissioner