Report: Colin Kaepernick-49ers contract talks off to a positive start
Though the relationships around the team's coaches reportedly aren't going well, the 49ers and Colin Kaepernick have been talking.
• 1 min read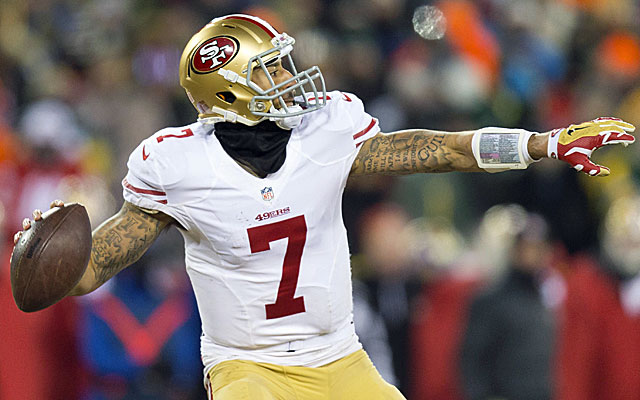 One of the more interesting stories to emerge from the NFL combine this week was the Browns' attempt to trade for 49ers coach Jim Harbaugh and, when that failed, the discussion that ensused about the deteriorating relationship between Harbaugh and some members of the San Francisco organization, most notably general manager Trent Baalke.
It's unclear whether the 49ers will ever give Harbaugh the kind of contract he feels he deserves -- reportedly he wants the richest deal in the NFL, but San Francisco understandably doesn't want to do it before he's won a Super Bowl.
Yet, there is good news on the horizon with one of the other most important men in the San Francisco organization. According to the San Jose Mercury News, the team has begun contract negotiations with quarterback Colin Kaepernick, and reportedly they're going well.
"There are many miles to go on this, of course. Any Kaepernick deal will be very large and any agreement involves many different leaps of faith…," writes columnist Tim Kawakami. "How long a deal will it be? At what salary? How much guaranteed? This could break off on any of those points, at any time, and remember Kaepernick is still under contract for the 2014 season so there's no great imperative… except to get this settled here and now. (And to get Kaepernick paid at a proper level.)"
Kaepernick's contract, which will pay him about $973,000 for 2014, runs through the end of next season, but since he's helped the team to back-to-back NFC title games and a Super Bowl XLVII appearance, he's on pace to make at least 12-15 times that per year for a new deal.
The Mercury News reports that the so-called floor on a deal would be $15 million per season, though the paper also raises the possibility of an average between $20 million and $22 million.
"Where we are with any of this stuff really stays in-house, as always," Baalke said during the combine. "We're working on a lot of different things right now with our own players. And that's first and foremost."
Peterman threw five interceptions in the first half before getting yanked

The Vikings' coach addresses the team's cloudy quarterback situation after their eighth win...

Here are the Week 11 grades for every team that played Sunday
Green Bay could have brought in a veteran quarterback but decided to stick with Hundley

All of the best highlights from Week 11 are right here

The Saints have now won eight straight games after an incredible comeback