Report: Colin Kaepernick asks 49ers for permission to seek a trade
Hours after Chip Kelly threw his support behind Colin Kaepernick, the quarterback reportedly wants to leave the 49ers.
• 2 min read
The Colin Kaepernick-Chip Kelly era seemingly started Thursday. It's now reportedly nearing its end just hours after its unofficial beginning.
One day after 49ers general manager Trent Baalke announced that he "absolutely" expected Kaepernick to remain with the team, just mere hours after head coach Chip Kelly threw his support behind him, representatives of the embattled quarterback have reportedly asked the team for permission to seek out a trade.
The report comes via NFL Network's Rand Getlin. Apparently, Kaepernick wants out of San Francisco.
Source: Kaepernick's agents have requested permission from the team to seek a trade.

— Rand Getlin (@Rand_Getlin) February 25, 2016
That's quite the quick reversal. In fact, when Kelly spoke about Kaepernick on Thursday, he made sure to specifically point out that Kaepernick, himself, wanted to return.
"He wants to be here," Kelly said, via CSN Bay Area. "He's never expressed to me that he doesn't want to be here. He expressed to me that he was excited about getting healthy and getting going. And we're excited about him getting healthy and getting going."
On his part, Kelly seemed genuinely excited to coach Kaepernick, saying, "It's never been a question. I'm excited to work with Colin. I've never thought that, 'Hey, I'm going to go to San Francisco and he's not going to be there.' I don't know why everybody else looks at it that way, either."
Now, we're back to even more uncertainty. How much would a team be willing to give up for a downward-trending quarterback who's coming off a season that saw him get benched for Blaine Gabbert? Which team wants a quarterback who hasn't improved since 2012 and 2013, when Kaepernick helped guide the 49ers to a Super Bowl and NFC title game in consecutive seasons? Since then, Kaepernick's play has taken a turn for the worse. In 2014, he compiled a passer rating of 86.4. That number fell to 78.5 this past season.
With that being said, trading Kaepernick really wouldn't be the worst outcome for the 49ers, as his $11.9 million salary is scheduled to become guaranteed on April 1. The problem, of course, is finding a team willing to part ways with valuable resources for a struggling quarterback who will count for nearly $16 million against the cap this coming season. Then, the 49ers will have to address their own quarterback situation for next season. Gabbert is hardly the solution, but the team owns the rights to the seventh-overall pick in the draft. Is Jared Goff or Carson Wentz their answer?
Kaepernick's reported request might've just changed the entire landscape of this year's draft, as quarterback suddenly becomes a much bigger need for the 49ers.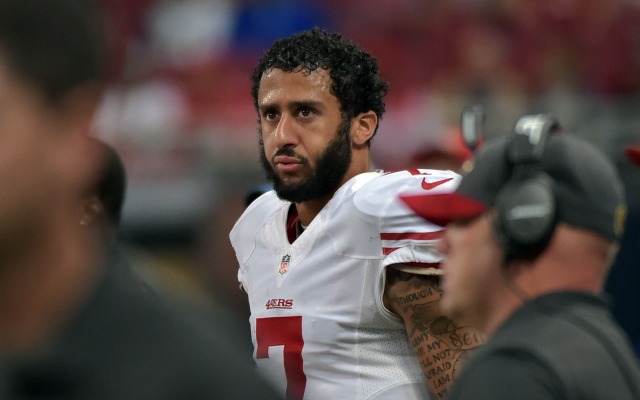 After an injury to Trevor Siemian, Brock Osweiler entered the game and helped the Broncos to...

The 32-year-old running back is done for the year

Brandon Williams was involved in a scary situation in the first half against Denver
The Broncos are turning back to Osweiler after an injury to Siemian

The Cowboys legend admits he's not on 'great' terms with the Cowboys suspended running bac...

Here's the latest information on injured Steelers linebacker Ryan Shazier